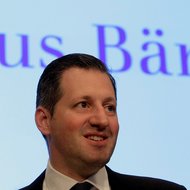 Arnd Wiegmann/ReutersBoris Collardi, chief of the Swiss bank Juluis Baer.
LONDON — The Swiss bank Julius Baer agreed on Monday to buy the private banking operations outside the United States of Bank of America Merrill Lynch, in a deal that will increase the European firm's assets under management by 40 percent.
The acquisition is the latest consolidation move in the private banking industry, as firms look to bolster their operations to gain access to the new markets of emerging economies.
As part of this effort, Julius Baer will pay about $882 million for the American bank's international wealth management business outside of the United States. The sale does not include Bank of America's joint venture in Japan, Mitsubishi UFJ Merrill Lynch PB Securities
In total, the division has about $84 billion of assets under management.
As part of the deal, Bank of America will be given about $246 million of Julius Baer stock, giving the American bank a 3 percent stake in the Swiss firm.
Even so, Bank of America has been shedding overseas holdings, in large part to raise capital. In November, it recorded a gain of $1.8 billion after taxes on the sale of its stake in China Construction Bank. And it sold its credit card business in Canada.
For Julius Baer, the acquisition will increase the bank's assets under management to about $258 billion. Under the terms of the deal, the Swiss firm will oversee up to an additional $74 billion of assets, which primarily come from wealthy clients in developing economies.
"This acquisition brings us a major step forward in our growth strategy and will considerably strengthen Julius Baer's leading position in global private banking by adding a new dimension not only to growth markets but also to Europe," the company's chief executive, Boris Collardi, said in a statement.
Despite the bank's large increase in assets under management, investors reacted negatively to the news. Shares in Julius Baer fell 7.4 percent by the close of trading in Zurich on Monday.
The shareholder response came after the Swiss bank said it would finance the acquisition through existing cash reserves and a $770 million rights offering. The bank said it would raise an additional $257 million for potential future acquisitions and $206 million through hybrid bonds.
The firm also canceled a previously announced $510 million share buyback.
Julius Baer said costs related to the acquisition would total about $320 million, and Bank of America Merrill Lynch would assume about $125 million of costs connected to the deal.
The deal is one of a number of acquisitions by Julius Baer in recent years. In 2009, it bought the private banking unit of the Dutch firm ING for approximately $500 million.
The deal is expected to close by early 2013. Perella Weinberg advised Julius Baer on the acquisition.
Article source: http://dealbook.nytimes.com/2012/08/13/julius-baer-to-buy-bank-of-america-unit/?partner=rss&emc=rss