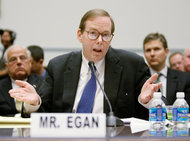 Alex Wong/Getty ImagesSean Egan, the president of Egan-Jones Ratings Company, at House panel in 2008.
The Securities and Exchange Commission said on Tuesday that Egan-Jones, the upstart credit ratings firm run by Sean Egan, had agreed to an 18-month ban from rating asset-backed and government securities issuers as a nationally recognized statistical rating organization.
The agreement settles accusations that the firm made misstatements about its record when applying for a government designation, the S.E.C. said.
"Accuracy and transparency in the registration process are essential to the commission's oversight of credit rating agencies," Robert Khuzami, director of the S.E.C.'s division of enforcement, said in a statement.
Related Links
Egan-Jones, which also agreed to correct any deficiencies and submit a report describing those steps, can still rate asset-backed and government securities issuers during the ban — just not with the government blessing that confers special authority on its opinions. The firm retains that designation for its other ratings categories.
Egan-Jones plans to reapply for the designation once the ban ends, said Bill Hassiepen, co-head of the ratings desk at Egan-Jones, who called the settlement terms "agreeable."
"The firm is most satisfied that this matter is resolved and behind us," Mr. Hassiepen said in a statement. "This settlement allows Egan-Jones to focus all of our efforts and resources on what we do best — producing the most timely, accurate and independent ratings in the business."
The S.E.C. had accused Egan-Jones of exaggerating its record in its application to the government. The firm had said it had 150 ratings of asset-backed securities and 50 ratings of governments under its belt, when it actually had none at that time, according to the agency. The S.E.C. had also found that Egan-Jones had violated provisions governing conflicts of interest.
Egan-Jones, notable for its business model of charging investors rather than issuers for its ratings, neither admitted nor denied the accusations.
Article source: http://dealbook.nytimes.com/2013/01/22/egan-jones-barred-for-18-months-on-some-ratings/?partner=rss&emc=rss