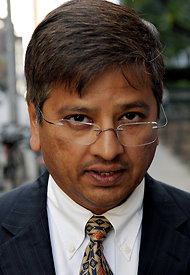 Peter Foley/Bloomberg NewsRajiv Goel was sentenced on conspiracy and and securities fraud charges in New York on Monday.
A former Intel executive who leaked secret information about his employer to Raj Rajaratnam, the fallen hedge fund billionaire, avoided prison on Monday when a judge sentenced him to two years' probation.
The former executive, Rajiv Goel, provided prosecutors with extensive assistance in prosecuting Mr. Rajaratnam. During the hedge fund titan's trial in 2011, Mr. Goel was one of the three crucial government witnesses who testified against him.
The other two witnesses — Anil Kumar, a former McKinsey Company executive, and Adam Smith, a Harvard-educated former Galleon Group trader — also received probationary sentences. Mr. Rajaratnam is now serving an 11-year sentence at a federal prison in Massachusetts.
Judge Barbara S. Jones, who sentenced Mr. Goel in Federal District Court in Manhattan, said that she had given him probation because of his extraordinary help in building a case against Mr. Rajaratnam and his essential testimony during the trial. She also noted that he had already paid a price for his crimes.
"You showed good sense in deciding to cooperate," the judge said. "You have already been punished in the sense of the shame you feel for your family and your having lost your career."
The United States attorney's office in Manhattan has charged 70 people with insider trading crimes since 2009. Of those, 64 have either pleaded guilty or been convicted at trial.
Many of the defendants served as pawns in the sprawling insider trading conspiracy orchestrated by Mr. Rajaratnam, who ran the hedge fund Galleon Group. At the height of his powers, Mr. Rajaratnam managed more than $7 billion and was considered one of Wall Street's savviest stock pickers.
Mr. Goel and Mr. Rajaratnam had stayed in touch since their days as classmates at the Wharton School at the University of Pennsylvania.
Their paths subsequently diverged. While Mr. Rajaratnam became a hedge fund giant, Mr. Goel was an unsatisfied middle manager at Intel. Mr. Goel, a native of Mumbai, India, envied the success and power of his old business school pal.
Mr. Rajaratnam lured Mr. Goel into his insider trading conspiracy by bestowing favors upon Mr. Goel. He lent him about $600,000. He made about $750,000 trading — often illegally — in Mr. Goel's brokerage account. At the same time, he would press Mr. Goel for confidential information about Intel.
Eventually, Mr. Goel succumbed to Mr. Rajaratnam's cajoling, giving him advance word of Intel's financial results and a major investment that the chip maker had planned to make, allowing his old friend to earn hundreds of thousands of dollars in illegal profits.
At Monday's sentencing, David Zornow, a lawyer for Mr. Goel, called Mr. Rajaratnam a "master manipulator" and "clever seducer" who played his client "like a fiddle."
Federal authorities investigating Galleon had secretly recorded telephone calls between Mr. Rajaratnam and Mr. Goel. The conversations revealed not only a close friendship but also the swapping of secret information about Intel. The two were arrested on the same day in October 2009.
While Mr. Rajaratnam fought the charges, a number of his ostensible tipsters, including Mr. Goel, pleaded guilty and helped the government in its prosecution.
The 54-year-old Mr. Goel, who lives in Palo Alto, Calif., has not worked since Intel fired him after his arrest. Appearing in federal court on Monday and accompanied by his wife, Mr. Goel pleaded for leniency in a brief statement that he read to Judge Jones.
"I had a serious lapse of judgment and good sense and I deeply apologize," said Mr. Goel, speaking in a soft mumble. "I hope that I am given another chance to repair the harm that I have caused and am deeply ashamed for the mistakes that I have made."
Article source: http://dealbook.nytimes.com/2012/09/24/a-key-witness-in-rajaratnam-trial-receives-probation/?partner=rss&emc=rss