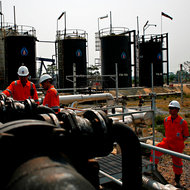 Dario Pignatelli/Bloomberg NewsA PTT Exploration and Production facility in Amphur Muang, Thailand.
LONDON — The oil and natural gas exploration company Cove Energy said on Wednesday that it had accepted a takeover offer from PTT Exploration and Production of Thailand.
The announcement of the deal, which values Cove at £1.22 billion ($1.91 billion), allowed PTT to trump a bid from Royal Dutch Shell, whose previous offer of £1.12 billion had been accepted by Cove Energy's board.
Earlier this week, Cove Energy, based in London, had sent a letter to shareholders recommending Shell's bid. Investors had until Wednesday to accept the all-cash offer from Shell.
But at the last minute PTT, which is owned by Thailand's state-backed oil company, raised its bid, which is 9.1 percent higher than Shell's takeover offer.
PTT and Shell have been battling for control of Cove Energy's 8.5 percent stake in a major natural gas field in Mozambique. The field, called Rovuma Area 1, is estimated to hold up to 30 trillion cubic feet of recoverable natural gas, and is operated by Anadarko Petroleum.
Last week, Anadarko and Cove Energy announced they had discovered another large source of natural gas in Mozambique, which could almost double the existing discovered resources.
Owing to growing demand and continued high prices for energy in Asia, the world's oil and natural gas companies have started to invest billions of dollars in East Africa in a search for new sources of energy.
"The bid from PTT represents significant value for shareholders and confirms the world class nature of Cove's East African assets," Cove's chief executive, John Craven, said in a statement.
Cove Energy's shares rose 10.9 percent in morning trading in London on Wednesday.
UBS is advising PTT on the deal, while Standard Chartered is advising Cove Energy.
Article source: http://dealbook.nytimes.com/2012/05/23/ptt-outbids-royal-dutch-shell-for-cove-energy/?partner=rss&emc=rss