CATHERINE RAMPELL
Dollars to doughnuts.
The labor force participation rate has fallen drastically in the last few years, partly because a huge chunk of the American population — the baby boomers — is rolling into retirement age. But the aging of Americans born from 1946 to 1964 has not actually had as big a drag on labor-force participation rates as demographers might have guessed a few decades ago.
That's because it has become much more common for people over 65 to continue working.
According to a new Census Bureau report, in 2010, 16.1 percent of the population 65 years and older was in the labor force, meaning either working or actively looking for work. Two decades earlier, that share was 12.1 percent.
The increased labor-force participation rate for the most senior Americans is partly tied to more women joining the work force over time, though men have shown large increases too:
Source: U.S. Census Bureau.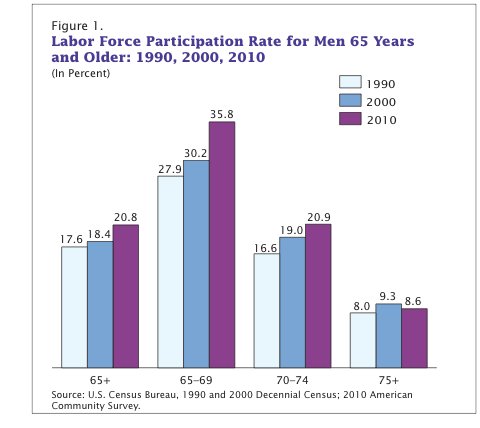 Source: U.S. Census Bureau.
Within the 65-and-over population, those from 65 to 69 had the biggest bump in labor-force participation. Across both genders in this narrower age range, the rate increased to 30.8 percent in 2010 from 21.8 percent in 1990, a 9 percentage point increase. (Interestingly, the share of people from 16 to 64 who were in the labor force moved in the opposite direction during that time, falling to 74 percent in 2010 from 75.6 percent in 1990.)
People may be working longer because they are in better health in their late 60s and expect to live longer than their counterparts a couple of decades earlier. But they may also have greater financial responsibilities today than in the past.
In 2011, of workers who said they would be delaying their retirement, 13 percent explained that they had "inadequate finances or can't afford to retire" and 6 percent gave the reason of "needing to make up for losses in the stock market," according to the Employee Benefit Research Institute. The share of people who said they were having to retire later than expected has also been much higher in the last few years than it was when the economy was good.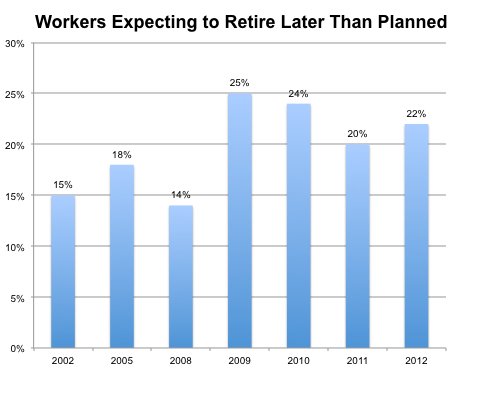 Source: Employee Benefit Research Institute.
To put all these numbers in context, it's worth remembering that labor-force participation rates for people over 65 used to be much higher in the late 1940s and 1950s:
Source: Bureau of Labor Statistics.
Additionally, people over 65 in the United States are far more likely to be in the labor force than people in most other developed countries, according to the Organization for Economic Cooperation and Development: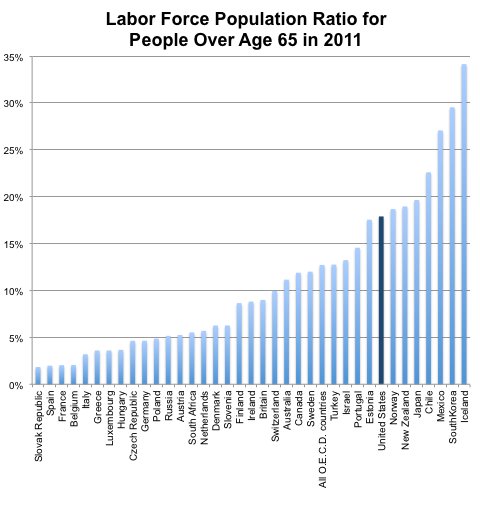 Source: Organization for Economic Cooperation and Development.
Article source: http://economix.blogs.nytimes.com/2013/01/24/older-but-not-yet-retired/?partner=rss&emc=rss