Yahoo announced on Tuesday that Jerry Yang, a co-founder and board member, had stepped down from the board effective immediately. He has also resigned from the boards of Yahoo Japan and the Alibaba Group.
Yahoo, which recently appointed a new chief executive, did not fully explain Mr. Yang's abrupt departure, but the board has wrestled with several issues in recent months, including a possible sale of its Asian assets and the company's strategic direction. In a letter to Yahoo's chairman, Roy Bostock, disclosed on Tuesday, Mr. Yang wrote: "The time has come for me to pursue other interests outside of Yahoo." He also expressed his confidence in the new chief, Scott Thompson, and the rest of the management team.

Shares of Yahoo jumped more than 4 percent in after-hours trading to more than $16 a share, immediately following the announcement.
"Jerry Yang is a visionary and a pioneer, who has contributed enormously to Yahoo! during his many years of service," Mr. Bostock, said in a statement. "And while I and the entire Board respect his decision, we will miss his remarkable perspective, vision and wise counsel."
Mr. Yang, who co-founded the Internet company in 1995 with David Filo, has been a polarizing figure in Silicon Valley — and in Yahoo's board room. During his brief tenure as its chief executive, from 2007 to 2009, he spurned a takeover offer from Microsoft worth $47.5 billion. Since that bid, made in 2008, Yahoo's stock has tumbled as it struggled to innovate against competitors like Google and Facebook. The company is now worth $19.1 billion, based on Tuesday's closing price.
Daniel Barry/European Pressphoto Agency Jerry Yang
It has been a tumultuous four months since Yahoo ousted Carol Bartz, its former chief executive, in September.
Since then, the company has muddled through a lengthy review of its strategic options and its broader identity. Yahoo, which still attracts significant traffic on the Web, was approached by a hodge-podge of potential suitors interested in buying parts or all of the company. Late last year, separate investment teams led by private equity firms Silver Lake and TPG Capital made offers to acquire minority stakes in Yahoo.
Meanwhile, the company's Asian partners — the Alibaba Group and Softbank — have also offered to buy back their Asian assets from the company, namely its sizable stakes in Yahoo Japan and Alibaba. In recent weeks, the board has pressed ahead with negotiations with Alibaba and Softbank, appearing to favor a near-term resolution of its Asian assets.
Throughout the process, Mr. Yang has been an enigmatic figure.
The founder, who has served on Yahoo's board since its inception,
played a heavy hand in discussions with potential investors, according to people close to the matter, who spoke on the condition of anonymity because talks are private. At times, Mr. Yang's opinions seemed to diverge from the board's consensus, these people said, creating a tense — and occasionally confusing — backdrop for negotiations.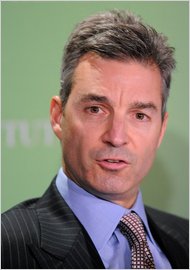 Phil McCarten/ReutersDaniel S. Loeb of Third Point
Mr. Yang, along with other board members, has also faced mounting pressure from activist investors, like Daniel S. Loeb, the head of the hedge fund Third Point, who has loudly called for the dismissal of both Mr. Yang and Mr. Bostock. Earlier this month, Mr. Loeb traveled to Silicon Valley, to interview board candidates in preparation for a possible proxy fight. He has until March 25 to file a competing slate of directors.
With a proxy war looming, Yahoo's board has tried to strengthen its ranks. On Jan. 4, the company appointed Mr. Thompson, a former PayPal president, to the chief executive role. The board has also discussed which members could potentially step down to make room for new directors that might be more palatable to investors, these people said.
Yahoo declined to comment for this article.
Mr. Yang currently serves as a board member of Cisco Systems and is a trustee of his alma mater, Stanford University.
Article source: http://feeds.nytimes.com/click.phdo?i=bf14368cb9ffa91272d9a9fb419f9bf4