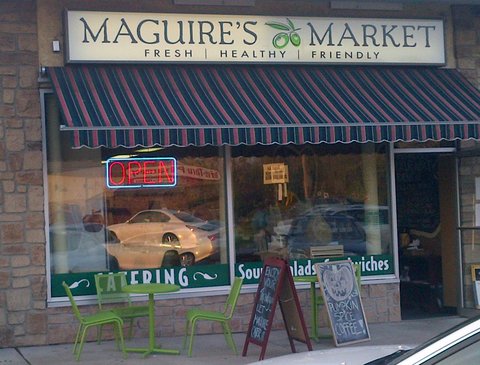 Ami Kassar. Joe Maguire: "I haven't lost my shirt yet."
A broker assesses the small-business lending market.
Every morning, before I start my day, I stop for a cup of coffee and a bagel near my office. I have to choose between the local Dunkin' Donuts franchise and Maguire's, a boutique sandwich shop. Invariably, I pick the sandwich shop. I know the owner, Joe Maguire, and I like to support him. Also, his coffee is great.
Mr. Maguire has owned the shop for almost a year. He knows his customers by name. I often see him at the back of the store loading products onto the shelves after a trip to Costco or helping with a breakfast run.
"How are you doing, Joe?" I ask.
"Hanging tough, Ami," he replies with a smile. "I've almost survived Year 1, and I haven't lost my shirt yet!"
As I walk to work, I feel good about my choice as a consumer, but I don't feel great about how our banking system is treating Mr. Maguire and millions of other small-business owners like him. The life of a small retailer is tough these days, and there are few signs that it's getting easier.
What, for example, are Mr. Maguire's options if he wants to get a loan to increase or expand his business? What happens if the radiator goes out and needs to be replaced, or if the oven blows up in the back of the kitchen? What happens if there is a bad winter and sales slow unexpectedly?
Mr. Maguire probably cannot turn to a bank. He has two strikes against him: he hasn't been in business for at least two years, and, unless he is one of the lucky few with equity in their houses, he has no collateral for a loan. The bankers aren't interested in the coffee urns or the coolers holding Snapple.
If Mr. Maguire is lucky and gets good advice, he may find one of the few banks that still offer unsecured Small Business Administration Express loans up to $50,000. The good news is that if you can get one of these loans, the rates are reasonable. The flip side is that Express can still take a few weeks and lots of paperwork, and Mr. Maguire may not have time to wait.
In this situation, he may well turn to one of the merchant cash advance lenders that are having a field day in today's economy and that will promise Mr. Maguire unsecured money in just a few days. The lender will review Mr. Maguire's recent merchant processing statements, bank statements or both, and then make what is often a tempting offer. In Mr. Maguire's case, the offer might be an immediate $20,000 in exchange for $25,000 of future receipts.
It sounds tempting because the owners figure they can get $20,000 immediately, and it costs only $5,000. Think about it, though. The $5,000 is 25 percent of the amount they're borrowing, and it's actually even worse than that. Considering that most of these loans have to be paid back within six months, the actual interest rate may be more than 50 percent. That is a lot for any small-business owner to swallow. The lenders can get away with the high rates because they are careful not to call these transactions loans. They say they are buying a piece of a company's future revenue.
If you are in the market, here are some things to consider:
Insist on seeing all of the fees upfront, and make sure you understand every one of them.
Make sure you understand the terms. Some of these loans involve a daily fixed amount taken from your account; others take a percentage of your credit card sales every day. A lender, for example, might demand 10 percent of your daily credit card receipts until you have paid back the agreed-upon amount. Don't focus on the 10 percent figure — that is not the rate you are paying. I had to explain to one client that his effective interest rate was more than 90 percent.
Insist that the cash-advance company provide at least a projected annual percentage rate, or A.P.R., for your loan. This makes it much easier to compare the advance with other options. In addition to an S.B.A. Express loan, there may be business credit cards or equipment leases available to you at better rates.
Shop around. The cash-advance business is competitive. Make sure you're getting the best possible rate.
The sad reality of today's credit markets is that many small businesses have no choice but to consider these types of loans. In our work at MultiFunding, we often find that there is no better option. Still, whenever I am forced to put a client into one of these high-rate loans, I think about Mr. Maguire and the struggle he is facing to build his business, as well as his crew of four employees who count on him. Yes, the merchant cash advance lenders and the hedge funds that back many of them are filling a need in today's market. But there has to be a better way.
Ami Kassar founded MultiFunding, which is based near Philadelphia and helps small businesses find the right sources of financing for their companies.
Article source: http://boss.blogs.nytimes.com/2012/10/30/what-you-need-to-know-about-merchant-cash-advances/?partner=rss&emc=rss