In 1996 she was one of seven anchors and reporters dismissed in a housecleaning by the station, but she was shortly recruited by WNBC, where she anchored with Chuck Scarborough for a time. She left the station after she lost her anchor slot in 2003.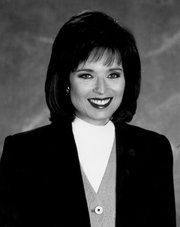 Michele Marie Marsh was born on March 9, 1954, in suburban Detroit to Howard Marsh, an insurance salesman, and the former Gloria Gadd.
Her first marriage, to Nathaniel Price Paschall, ended in divorce. In addition to their son, John, she is survived by her second husband, P. H. Nargeolet.
Ms. Marsh graduated from Northwestern University, where she majored in radio and television production.
She began her career at WABI-TV in Bangor, Me., where she ran the teleprompter with her toes while on the air. She told The Bangor Daily News in 1976 that she had gotten fan mail "from little boys who say, 'Let's run off together, my father owns an ice cream truck.' "
After moving to KSAT-TV in San Antonio, she came to the attention of adults, too, becoming so popular that guards were assigned to fend off her admirers.
After only five months in New York, when she was still 25, she said her brown hair had already started turning gray. Before she left in 2003, she would win five local Emmy Awards in the nation's most competitive market.
Continue reading the main story
Article source: https://www.nytimes.com/2017/10/18/obituaries/michele-marsh-dead-longtime-new-york-tv-news-anchor-dies.html?partner=rss&emc=rss