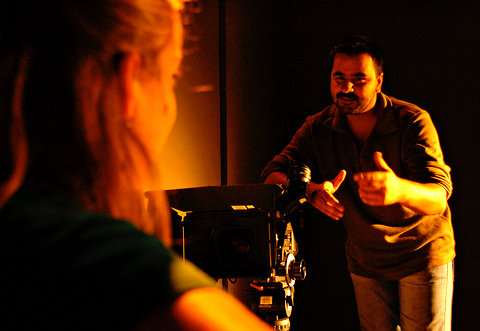 Erick Yates GreenSamiullah Nabizada, who attended the University of Southern California cinema school in 2011, has returned to Afghanistan.
LOS ANGELES — Before he became famous in the media world as the chief executive of MTV, and then its parent, Viacom, Tom Freston had a less glorious career as the proprietor of a clothing company based in Afghanistan.
Things ended badly, by Mr. Freston's account, when he had to leave the country in 1978 on the heels of a coup. "There was too much shooting in the streets," he recalled.
But his love affair with Afghanistan continued. And Mr. Freston, fired from his Viacom position by Sumner Redstone in 2006, has been quietly stealing time from his current career as a consultant and entrepreneur to connect the dots of his far-flung experiences — from untamed Afghanistan to the unruly media future — via a little-noticed program at the University of Southern California's School of Cinematic Arts.
Kept under wraps until now because of security concerns, the program, entering its second year, enrolls two Afghan students annually for a crash course in the cinema school's summer program.
The students are sponsored by Mr. Freston in collaboration with Saad Mohseni of the Moby Group, a media conglomerate in Afghanistan (on whose board Mr. Freston serves). For about seven weeks, the students get a day-and-night education in writing, editing, cinematography and whatever else it takes to make programming for screens, large and small.
"Four years is too late," Mr. Freston said of his reasons for backing students for short stints, rather than a full four-year education. (His own son is a graduate of the cinema school, its spokeswoman said.)
By Mr. Freston's account, the trained talent pool in Afghanistan's media world roughly matches what he found decades ago in the cable television world — many are willing, but few are trained. With that in mind, two trainees will arrive at U.S.C. next month to begin studying under the program's overseer, David Weitzner.
The trainees from last summer have returned to Afghanistan, and are working in a rough-and-tumble business that still fears a Taliban resurgence but in the meantime has millions of viewers for programs as far-flung as a Persian-language version of a Spanish-language telenovela.
Before leaving Afghanistan in 1978, Mr. Freston said, he briefly considered just sticking around until things settled down. "I'd still be waiting," he said.
Article source: http://mediadecoder.blogs.nytimes.com/2012/05/27/at-u-s-c-media-training-for-afghan-students/?partner=rss&emc=rss