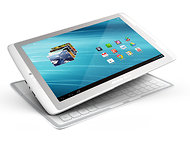 The Archos 101XS tablet features a magnetic keyboard that doubles as a cover.
The French electronics company Archos is hoping to bolster its presence in the United States with a new line of Android tablets that include an integrated keyboard.
Arriving in November, the first offering is the $400 101XS, a 10.1-inch tablet that weighs 21 ounces and is 0.31 inches thick. Two more tablets, a 9.7-inch and an 8-inch, will follow.
The tablet's innovative feature is the Coverboard, a keyboard that doubles as a cover. Secured to the tablet with magnets, the Coverboard slides off easily. The tablet can then be docked in the Coverboard for typing.
This seems like a great advancement, unless you don't need to type. Then what do you do with the Coverboard? Unfortunately, it doesn't secure to the back of the tablet the way it does to the front, which makes it tricky to use, say, when you're commuting on the subway. You have to find someplace to stash the cover. Once you do, however, the tablet is easy to hold and use.
The tablet is powered by the Android 4.0 operating system, Ice Cream Sandwich, but will be upgradable to Android's next OS, Jelly Bean. Being an Android device, it comes with the full Google family of services and apps. But sometimes, family members are not on speaking terms. I had problems with several Google apps like Gmail and YouTube.
Included with the tablet is the OfficeSuite Pro 6 app, which allows users to view, edit and share Word, Excel and PowerPoint files. I tried to use the app's word processor to type this post, but the keyboard was too small for my hands. After spending much time hunting and pecking, I decided to save the file to Google Docs and finish it on my laptop.
Navigating the media center was easy, and the screen's display was decent, but the sound from the speakers was tinny and small. I'd get better sound if I opened my window and listened to the TV playing in my neighbor's apartment downstairs.
Article source: http://gadgetwise.blogs.nytimes.com/2012/08/30/a-tablet-that-moves-closer-to-becoming-a-laptop/?partner=rss&emc=rss