He also worked for publications of various political persuasions, among them the Mexico City dailies La Jornada and El Universal.
At the newspaper Ovaciones, he told The New York Times in 1979, "I'd have to do two or three cartoons each day before the editor would accept one that was bland enough." He lasted 14 months. Ovaciones was one of five papers that fired him.
"With the death of Rius," Mexico's culture secretary, María Cristina García Cepeda, said this week, "a period of political caricature and popularization has come to an end."
Mr. del Río was an early supporter of Fidel Castro's Cuban revolution, but soured on the regime's repression and corruption. He was a card-carrying Communist for seven years until 1968, when he renounced his membership to protest the Soviet invasion of Czechoslovakia.
But he reserved his most splenetic rants for the political shenanigans and growing materialism he found at home. A society's degree of civilization, he said acerbically, could be measured by the numbers in four categories: cars, televisions, heart attacks and cancer patients.
Eduardo Humberto del Río García was born on June 20, 1934, in Zamora, an epicenter of conservative Roman Catholicism in southwestern Mexico. Before he was six months old, he recalled, his father died after squandering what little money the family had on gambling.
His widowed mother moved with her two sons to Mexico City, where Eduardo secretly devoured comic books, consumed the classics at a secondhand bookstore and completed his secondary school education at a seminary run by the Salesian order.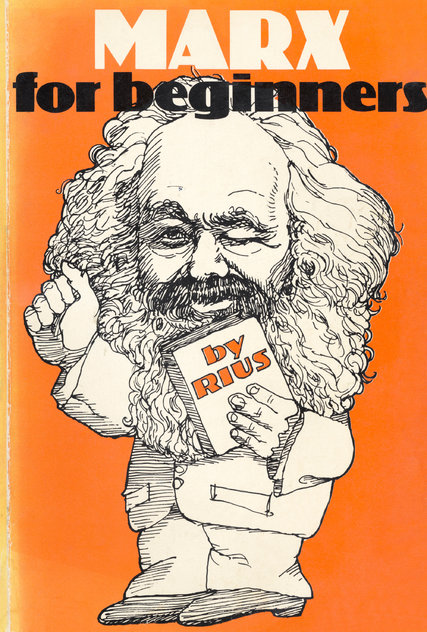 He worked as a messenger and a cashier, sold soap and finally landed a job answering phones in a funeral home, where he had plenty of time to practice his drawing. (His older brother was a commercial artist.) He was recruited by Ja Ja, a humor magazine, after his doodles were noticed by a mourner who was familiar with the magazine's editor.
Advertisement
Continue reading the main story
A self-described Marxist-masochist, Mr. del Río founded the Mexican Workers Party's magazine Popular Insurgency. He Latinized his surname to Rius, he said, in case his family considered his irreverent cartoons too incendiary.
Indeed, his work was so caustic that it caused him to be kidnapped. Grabbed by the police in 1969, he was turned over to soldiers, who, he later told The Times, "took me up a mountain and stood me next to an open grave."
Newsletter Sign Up
Continue reading the main story
He continued: " 'We're going to kill you now,' they said. 'You're an enemy of Mexico.' "
He said he was freed only after the soldiers learned that he was related to a former Mexican president.
Years later, the publication of his book "The Manual of the Perfect Atheist," in 1980, got him excommunicated from the church, he said, because it not only challenged God's existence but also suggested, as one chapter title put it, "the exploitation of Christ by man."
"I have to thank God, who made me an atheist and the Catholic Church, which made me anticlerical," he told La Jornada.
His "Marx for Beginners" was praised by the political scientist Andrew Hacker in The Times Book Review as "a superb little book" peppered with "beguiling illustrations."
His latest book, "Los Presidentes Dan Pena" ("The Pitiful Presidents"), published this year, is another barbed history lesson about Mexico, which he once said was submerged in the "ignominy of pedagogical mediocrity" — despite his relentless efforts to enlighten his fellow Mexicans.
Advertisement
Continue reading the main story
As the author Carlos Monsiváis once said, there were three major departments of education in Mexico: the Ministry of Public Education, the multimedia conglomerate Televisa, and Rius.
Mr. Del Río's survivors include his wife, Micaela Flores, and his daughter, Citlali del Río Flores.
While Mr. del Río was a militant humorist (and a vegetarian), he was also considered a public intellectual. He said that his messages penetrated more deeply because they were both visual and jocular.
"The great philosophers are very serious," he said. "Sometimes it is hard to understand everything they say. Humor, on the other hand, is what makes people laugh, and that gives a lot of envy to philosophers, similar to what happens with painters toward caricaturists."
Continue reading the main story
Article source: https://www.nytimes.com/2017/08/11/business/media/eduardo-del-rio-political-cartoonist-known-as-rius-dies-at-83.html?partner=rss&emc=rss