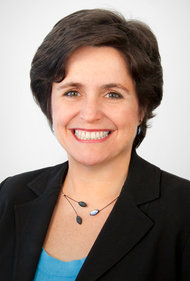 Center for American ProgressSarah Rosen Wartell
Sarah Rosen Wartell, a housing expert and economic policy analyst, will become the president of the Urban Institute in February, the Washington-based research organization said Tuesday.
Ms. Wartell is the co-founder of the Center for American Progress, the progressive policy research organization and advocacy group, and currently heads its housing finance program. She will succeed Robert D. Reischauer, the former head of the Congressional Budget Office, at the helm of the 43-year-old nonpartisan institute.
In an interview, Ms. Wartell said that she hoped to bolster the institute's profile and make its research more relevant to policy debates. "Urban has this really remarkable collection of scholars and analytical tools and models," she said. "My goal is to protect what Urban is – a place of tremendous and renowned scholarship and research – while trying to make its studies more accessible and visible, so that policy makers of all political stripes can use them."

She cited the influential Tax Policy Center, a project of the Urban Institute and the Brookings Institution, as an example. "It has done a very good job of doing relatively quick turnaround analysis of tax policy," she said. "They're a go-to site, and people, whether proponents or opponents of a proposal, rely on it."
Before helping to found the Center for American Progress in 2003, Ms. Wartell served in the Clinton administration as deputy assistant to the president for economic policy and as deputy director of the National Economic Council. She also worked in the Department of Housing and Urban Development.
Ms. Wartell said she hoped to continue working on housing finance issues while managing the Urban Institute, which has 10 centers on policy topics including health care costs, poverty, criminal justice, immigration and unemployment. "How we rebuild housing finance in the wake of the conservatorship of Fannie Mae and Freddie Mac," she said. "That's obviously not going away as a problem."
Article source: http://feeds.nytimes.com/click.phdo?i=311daee3eee1cad55476929f624cd80b