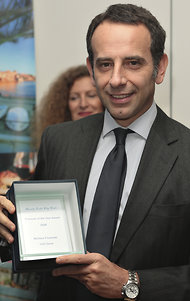 Leon Neal/Agence France-Presse — Getty ImagesYoel Zaoui in 2008.
LONDON – The brothers Michael and Yoël Zaoui, two of the most prominent London-based investment bankers of the last two decades, have created a new company called Zaoui Capital, according to British regulatory documents.
The news comes after Yoël Zaoui stepped down as co-head of global mergers and acquisitions at Goldman Sachs this year. His brother, Michael, retired from his position as Morgan Stanley's chief European deal maker in 2008.
Born in Morocco and educated in France and the United States, Yoël Zaoui had joined Goldman Sachs in 1988, and moved to London in 1989 to help build the firm's operations in Europe, with a focus on mergers. His brother joined Morgan Stanley in 1986, and moved to London four years later.
Over the last two decades, the Zaoui brothers had been part of many of Europe's largest deals. The two bankers, for example, were on opposing sides of Mittal's contentious hostile bid in 2006 for the rival steelmaker Arcelor, with Michael advising Arcelor and Yoël advising Mittal.
The new company, Zaoui Capital, was established in late July, and names the two brothers as officers of the firm. Details about the company's activities were not disclosed.
A representative for Zaoui Capital was not immediately available for comment. The news was earlier reported by Financial News.
Article source: http://dealbook.nytimes.com/2012/08/06/zaoui-brothers-establish-new-firm/?partner=rss&emc=rss