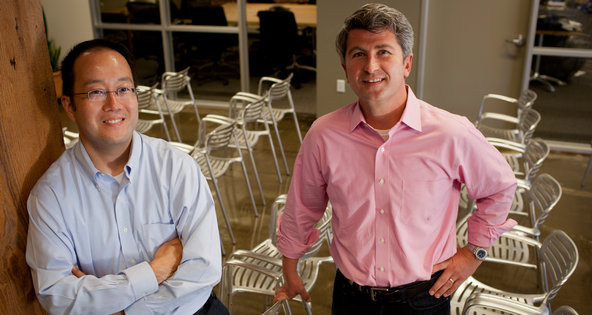 Peter DaSilva for The New York TimesYoichiro Taku, left, and Todd Carpenter of the Wilson Sonsini law firm, which opened an office for start-ups in San Francisco's SoMa neighborhood.
SAN FRANCISCO — The ground floor of 139 Townsend Street has all the markings of a start-up: exposed lighting, long communal tables and an odd assortment of knickknacks, including a fire-engine-red British telephone booth.
But the brick industrial building, in San Francisco's SoMa district, is not the home of Twitter, Zynga or another up-and-coming Internet company. It's the office of Wilson Sonsini Goodrich Rosati, the half-century-old law firm.
"There's a marketing benefit," said Yoichiro Taku, a partner at Wilson Sonsini who represents many early-stage companies. "It definitely makes us hipper."
Wilson Sonsini's new outpost reflects the firm's evolving mind-set as lawyers jockey for the attention of start-ups. In an effort to build credibility among new technology companies, Wilson Sonsini and others are employing a broad set of tools, including offering free services, cozying up to incubators and writing blogs.
Such efforts are critical. While early-stage ventures represent just 20 percent of the firm's business, those companies can generate hefty fees as they mature. Wilson Sonsini and other firms also make small investments in young start-ups, which can pay off in later years.
"Small deals would not have interested these firms a few years ago," said Joseph A. Grundfest, a Stanford law professor. "Now, it's the new normal."
For years, Wilson Sonsini dominated Silicon Valley, shepherding young technology companies like Apple, Netscape Communications and even the ill-fated Webvan. In 1998, Lawrence W. Sonsini, the firm's patriarch, introduced two Stanford graduate students to Sequoia Capital and Kleiner Perkins Caufield Byers, two top venture capital firms. Six years later, Wilson Sonsini helped their company, Google, go public.
Today, the firm plays in an increasingly crowded space. In the 1960s when it was first founded, only a handful of law firms had offices in the region. Now scores blanket the Bay Area.
"We were left alone in this market for an absurdly long period of time in the '80s and '90s," said Steven E. Bochner, a partner at Wilson Sonsini. "Everyone is here now."
According to Dow Jones VentureSource, the firm represented the most venture capital deals in the first half of this year, with 157 transactions, nearly double its closest competitor. But its once-absolute grip on the market has slackened.
In the last wave of Internet initial public offerings, the law firm picked up LinkedIn's prized sale, as well as those of Splunk and Palo Alto Networks. But it did not land Zynga, Groupon or, most significantly, Facebook, which went to its rival, Fenwick West.
While no one at Wilson Sonsini is exclusively focused on start-ups, a few lawyers have emerged as leaders in this area. Mr. Taku, 44, a native of Japan who joined the firm 16 years ago, has helped broker partnerships with several incubators like AngelPad and Founder Institute, which help Wilson Sonsini get a first peek at fledgling start-ups. And he runs startupcompanylawyer.com, a personal Web site where he muses on topics like incorporation and financing. Mr. Taku often collaborates with Todd Carpenter, who helped lead the effort to open the SoMa office. And Mr. Sonsini still tries to meet with one or two start-ups a week.
For big law firms, courting young companies is something of a balancing act. On the one hand, a firm wants to reach the highest number of top-shelf start-ups. But it has limited resources, so it has to be choosy.
To that end, many have taken steps to reduce the cost of early-stage venture financing for entrepreneurs, while automating the process to make it easier for lawyers. Fenwick West has been at the forefront of this trend. Two years ago, the law firm created and posted standardized deal documents online for free downloading.
Earlier this month, Wilson Sonsini teamed up with Angelist, a network for investors and entrepreneurs, to also offer free standardized deal documents online. Although start-ups can use any law firm to process the forms, Wilson Sonsini has offered to do it pro bono if a start-up becomes a client.
"We're trying to show we can add value to the community." said Mr. Carpenter, who worked on the Angelist project with Mr. Taku and Mr. Bochner. "So hopefully, when these start-ups need a lawyer, they think of us."
Jack Smith, a recent London transplant and co-founder of Vungle, a video advertising platform, met Mr. Taku through AngelPad. Mr. Taku offered to defer legal costs up to $5,000. Mr. Smith, who had read Mr. Taku's blog, was sold. He was also able to wring out additional hours with Mr. Taku, known as Yokum, who often holds free office hours at AngelPad.
"Yokum was kind of a celebrity for us," he said. Months later, the start-up remains a client, but it now has to adjust to a more normal fee structure. "They are charging us more — you quickly learn what you can bother your lawyer with."
The initiatives aim to be founder-friendly. In August, Mr. Taku worked with Adeo Ressi, the founder of the Founder Institute, to create a financing alternative to convertible debt, which has been popular among entrepreneurs but can burden start-ups with debt. Mr. Taku and Mr. Ressi came up with standardized convertible equity documents. Convertible equity solves some of the problems of debt financing by eliminating the interest rate and the need for repayment.
Like the Angelist program, those documents are available free online. The initiative set off lively debate, prompting blog posts from several influential venture capitalists, including Fred Wilson of Union Square Ventures and Mark Suster, a partner at GRP Partners.
Several of Wilson Sonsini's competitors said they were skeptical that these broad efforts would amount to much. Indeed, some initiatives have been expensive ones.
Earlier this year the firm signed a five-year lease on the SoMa locale, shorthand for the neighborhood South of Market Street, a mile away from the company's flagship San Francisco office. While four partners work out of the SoMa office, it's also intended to be an open, collaborative space that can be used by start-ups and entrepreneurial organizations.
On a recent Tuesday, the office was co-hosting a pitch event for 30 new start-ups, a chance for companies to present their products to potential investors and win entrance to a coming technology conference.
Although the event was organized by DEMO, a technology conference business, Wilson Sonsini provided free pizza and Trumer Pils, a popular beer brewed in nearby Berkeley. At other times, the firm has held seminars on hiring, employee liquidity events like an I.P.O., and data privacy, which featured regulators from the Federal Trade Commission.
"Being a mile away can be a huge difference," said Mr. Carpenter.
Article source: http://dealbook.nytimes.com/2012/10/01/wilson-sonsini-retools-strategy-to-land-internet-start-ups/?partner=rss&emc=rss