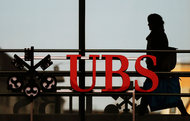 Michael Buholzer/ReutersUBS is based in Zurich.
LONDON – The Swiss bank UBS, buoyed by strong performances in its wealth management and investment banking operations, reported first-quarter earnings on Tuesday that sharply exceeded analysts' expectations.
Although the bank said profit fell to 988 million Swiss francs ($1 billion) from 1 billion francs in the period a year earlier, the results were much better than the 412 million francs predicted by a group of analysts surveyed by Bloomberg News.
Sergio P. Ermotti, the chief executive, said in a statement that he was very pleased with the performance. He cautioned that it was "too early to declare victory," but said the earnings showed the company's "business model works in practice."
UBS announced a far-reaching overhaul of its business in October to adjust to tighter regulations and the effect of a sluggish European economy. The bank started to eliminate 10,000 jobs, reduce bonus payments, scale back its investment banking trading business and focus more on its successful wealth management operation.
It also sought to rebuild trust among clients and investors after its involvement in some recent scandals. The bank uncovered a $2.3 billion trading loss in 2011 connected with the activities of a former trader, Kweku M. Adoboli, who has since been sentenced to seven years in jail. In December, UBS said it would pay $1.5 billion in fines to settle a case related to the manipulation of the London interbank offered rate, or Libor.
UBS said pretax profit at the investment banking operation rose 92 percent, to 977 million francs. Stronger demand for its equity capital markets services offset a drop in its advisory and debt capital markets business, it said.
Net new money at its global wealth management business was 23.6 billion francs in the first quarter, compared with 10.9 billion francs in the period a year earlier. Pretax profit at wealth management outside the Americas fell 28 percent, to 664 million francs, while earnings at wealth management in the Americas rose 19 percent, to 251 million francs.
UBS has been cutting back more at its investment banking operation than Credit Suisse, its main rival in Switzerland. Mr. Ermotti, who took over UBS at the end of 2011, hired Andrea Orcel from Bank of America Merrill Lynch last year to help overhaul the unit.
Last week, Credit Suisse posted a profit of 1.3 billion francs in the first quarter, up from 44 million francs in the first quarter of 2012, when it booked a loss of 1.6 billion francs on the value of its own debt. The results were helped by a better performance of its investment banking operation.
Article source: http://dealbook.nytimes.com/2013/04/30/ubs-records-1-billion-first-quarter-profit/?partner=rss&emc=rss