Joe Raedle/Getty ImagesSprint is to expand its Long-Term Evolution network.
7:07 p.m. | Updated
Sprint Nextel agreed Monday to buy all of the wireless network operator Clearwire, an important step for the cellphone service provider as it continues its big turnaround campaign.
Under the terms of the bid, Sprint will pay $2.97 a share for the nearly 50 percent stake in Clearwire that it did not already own for a total of about $2.2 billion.
The two companies must still convince restive Clearwire shareholders that they should accept a bid only modestly raised from last week and that some have called too low.
The price is a bump up from the $2.90 a share that it offered last Thursday, and represents a premium of 128 percent over Clearwire's stock price in early October, before speculation emerged that Sprint would seek to buy the wireless network operator. Sprint's first proposal to Clearwire, made around Nov. 21, was worth about $2.60 a share.
Related Links
Clearwire's board approved the offer based on the recommendation of a special committee of directors not appointed by Sprint. Clearwire also has commitments for the deal from Comcast, Intel and Bright House Networks, which collectively own 13 percent of the voting shares.
Shares of Clearwire closed on Monday at $2.91, having fallen more than 13 percent as investors gave up on the prospects of a significantly higher offer.
Sprint is able to make the offer as a result of a cash injection from SoftBank of Japan, which agreed in October to a $20.1 billion transaction to gain majority control of the American telecommunications company. Sprint still lags far behind the market leaders, Verizon Wireless and ATT.
The Clearwire deal would allow Sprint to expand its Long-Term Evolution network, which is based upon the same data standard used by the newest generation of smartphones. Clearwire owns spectrum that is similar to what SoftBank uses in Japan, potentially giving the newly strengthened Sprint more clout in ordering the latest devices.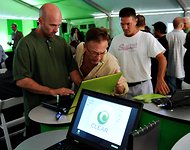 Warren Mell/ClearwireClearwire demonstrated its 4G modem, which uses cell signals for wireless broadband, in Las Vegas in 2009.
Sprint initially invested in Clearwire in 2008 as part of an unusual consortium that also included Google, Intel and Time Warner Cable, with the aim of creating a next-generation data network. The telecom had long been the biggest investor, with significant leverage over Clearwire, but did not have full control.
"It feels good," Daniel R. Hesse, Sprint's chief executive, said in a telephone interview. "It's been a four-year journey for me, and a long journey for Clearwire's management and its board."
Some of Clearwire's minority shareholders have said that the company should hold out for a higher price, with one analyst calling for at least $5 a share.
One of these investors, Crest Financial, said that it would try to block Sprint's deal with SoftBank if the earlier offer of $2.90 a share had gone through.
Erik E. Prusch, Clearwire's chief executive, said his company had explored a wide range of alternatives to a sale. But those options — including a sale of excess spectrum, a deal with another strategic partner or raising additional capital — would have fetched far less money.
And he noted that Clearwire had retained the Blackstone Group as an adviser on reorganization options, which people briefed on the matter have said included a potential bankruptcy filing. The company said that as of Sept. 30, it had enough cash to last for about a year, though it had slowed important network improvements.
As part of the deal announced Monday, Sprint will provide the company with up to $800 million in interim financing.
"At this point, we believe that a restructuring is quite possible, should our transaction with Sprint not close," Mr. Prusch said on a conference call with analysts.
In an interview, he noted that Google had sold its holdings in Clearwire this year at $2.26 a share. Time Warner Cable sold its shares for $1.37 apiece.
Citigroup and the law firms of Skadden, Arps, Slate, Meagher Flom and King Spalding advised Sprint. The Raine Group acted as financial adviser to SoftBank and Morrison Foerster acted as counsel to SoftBank.
Evercore Partners and the law firm Kirkland Ellis advised Clearwire. Centerview Partners acted as financial adviser and Simpson Thacher Bartlett and Richards, Layton Finger acted as counsel to Clearwire's special committee. Blackstone Advisory Partners advised Clearwire on restructuring matters. Credit Suisse acted as financial adviser and Gibson Dunn Crutcher acted as counsel to Intel.
A version of this article appeared in print on 12/18/2012, on page B2 of the NewYork edition with the headline: Sprint Nextel Reaches a Deal to Buy Rest of Clearwire.
Article source: http://dealbook.nytimes.com/2012/12/17/sprint-reaches-deal-to-buy-out-clearwire/?partner=rss&emc=rss