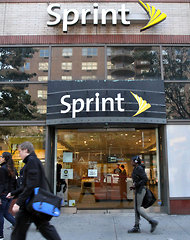 Tina Fineberg for The New York TimesA Sprint store on the Upper East Side of Manhattan.
11:13 p.m. | Updated
Sprint Nextel is putting the final touches on a deal to sell 70 percent of itself to SoftBank of Japan for $20 billion, according to people briefed on the matter, in the struggling cellphone service provider's boldest move yet to revive its fortunes.
A deal could be announced as early as Monday, these people said, but they cautioned that talks were continuing and might still fall apart.
SoftBank, a big Japanese telecommunications company, is expected to pay $8 billion to buy newly issued Sprint stock, worth about $5.25 a share. It will then pay $12 billion to buy existing stock from other investors at $7.30 a share, a premium to current levels.
Shares in Sprint have risen 14 percent since the wireless company confirmed on Thursday that it was in negotiations with SoftBank, closing on Friday at $5.73.
Sprint is also working to gain more control over Clearwire, the wireless broadband company in which it owns a large stake, these people said. But closing the transaction with SoftBank is the biggest priority for now.
If completed, the deal would give Sprint some much-needed cash as it aims to compete against its bigger rivals, Verizon Wireless and ATT. Sprint, which has long struggled to recover from the 2005 merger with Nextel, has been spending billions of dollars to build a next-generation data network to support the latest smartphones like the Apple iPhone 5.
It remains well behind Verizon and ATT in offering Long-Term Evolution, or LTE, data service, though the company is well ahead of T-Mobile USA, the country's fourth-largest wireless service provider.
At the same time, Sprint is laboring under nearly $21 billion of debt, some of which is set to mature next year.
And if a proposed merger of T-Mobile and MetroPCS is completed, Sprint will face a tougher competitor in the world of lower-priced cellphone service. Both companies have pitched unlimited data plans to customers at lower costs than those for plans offered by the big two providers.
Sprint has long hinted that deal-making was in its future; its chief executive, Daniel Hesse, has said that he expects to participate in the industry's continuing consolidation.
But the proposed deal with SoftBank came as a surprise to many analysts and investors. Until now, the Japanese company has been focused on gaining share in its home market, largely through acquisitions and building out an LTE high-speed data network. And until recently, it had been focused on paying down its enormous debt load, which stood at nearly $13 billion as of June 30.
Shares of SoftBank fell nearly 17 percent after it confirmed the talks last week and dropped another 5 percent in trading in Tokyo on Monday.
Still, the Japanese company's chief executive, Masayoshi Son, has harbored ambitions to move into the much bigger American market. Sprint is one of the few significant players up for grabs, and may eventually serve as a vehicle for future deals — perhaps even one for the enlarged T-Mobile, several years from now.
The two sides are betting that American government regulators would favor any transaction that strengthens competition, avoiding the harsh opposition to ATT's $39 billion bid for T-Mobile last year.
Mr. Son, an Internet entrepreneur, had already broken into an industry dominated by two established rivals when he bought Vodafone's Japanese arm in 2006. He has steadily built the company into a major new competitor, one poised to become Japan's second-biggest wireless service provider, after NTT DoCoMo, with the acquisition of a smaller rival, eAccess.
News of the advanced status of Sprint's talks was reported on Sunday by CNBC.
Article source: http://dealbook.nytimes.com/2012/10/14/sprint-gets-closer-to-a-deal-with-softbank/?partner=rss&emc=rss