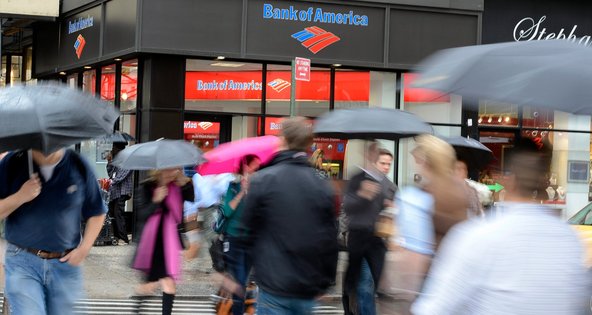 Andrew Gombert/European Pressphoto AgencyA Bank of America branch in Manhattan.
10:22 a.m. | Updated
Bank of America reported first-quarter earnings on Wednesday that fell well short of Wall Street's expectations but were substantially higher than in the period a year earlier.
The bank made 20 cents a share in the first quarter, compared with 3 cents in the year-ago period. Analysts were expecting a profit of 23 cents a share. Bank of America, the nation's second-largest lender when measured by assets, had revenue of $23.5 billion in the first quarter.
The company's shares fell nearly 4 percent in morning trading, to $11.80.
Since the financial crisis, Bank of America's performance has been hurt by large mortgage-related losses, but in recent months investors have been betting the bank would regain its footing. Its shares have risen nearly 40 percent in the last 12 months. Earlier this year, regulators approved the bank's plan to buy back stock, a clear sign they felt the lender was on firmer ground.
In a statement, Brian T. Moynihan, Bank of America's chief executive, said, "Our strategy of connecting our customers to all we can do for them is working."
The question now is how the latest earnings will affect the recent optimism surrounding the bank, which lends to individuals and companies and has a large Wall Street presence through its Merrill Lynch unit.
Other large banks have reported earnings that exceeded analysts' estimates this quarter, so Bank of America's failure to do so may unnerve some investors. The debate will be over whether the bank fell short because of deeper issues that will be hard to resolve, or because of items that will have less of a negative effect as time passes.
Much uncertainty surrounds the cost of litigation relating to bad mortgages. Most of these troubled loans were made by Countrywide Financial, which Bank of America acquired in 2008. Bank of America has settled several big mortgage lawsuits, including one on Wednesday for $500 million, which was led by the Iowa Public Employees' Retirement System. In the first quarter, Bank of America had litigation expenses of $881 million.
Some analysts wonder whether the bank has set aside enough money to cover future settlements. In particular, they say that litigation expenses could be far higher if a pending settlement with Bank of New York Mellon does not gain court approval.
"We have established significant reserves for settlements with various counterparties, including 22 of the world's largest investors, Fannie Mae, Freddie Mac and others," said Jerome F. Dubrowski, a spokesman for Bank of America. "We believe we are appropriately reserved for the exposures we face, and we have provided investors with a range of possible loss estimates that could go beyond those reserves."
The first-quarter results also revealed a mixed performance in Bank of America's current mortgage business. Initially, the bank did not participate in the mortgage refinancing boom as strongly as rivals like Wells Fargo. But in recent months it has jumped back in.
In the first quarter, Bank of America originated $23.9 billion of mortgages, well up from $15.2 billion a year earlier. But revenue from writing new mortgages actually fell to $815 million from $928 million in the period a year earlier. This shows that profit margins in the new mortgage business have fallen as Bank of America has stepped up activity.
The quarter contained bright spots for shareholders. The bank said it made headway in cutting expenses, something investors are watching closely. As banks struggle to increase revenue, they can improve earnings by reducing costs.
"There were many examples of progress this quarter," Bruce R. Thompson, Bank of America's chief financial officer, said in a statement. "We reduced noninterest expense by nearly $1 billion year-over-year."
In addition, Bank of America set aside significantly less money for its reserve against bad loans, which gave earnings a big boost.
Bank of America's Wall Street operations were also mixed. Trading revenue was $4.5 billion, excluding accounting adjustments related to the bank's own debt. The bank reported trading revenue of $5.2 billion in the first quarter of 2012.
Investment banking fees were up, however, and the wealth management unit, which includes the Merrill Lynch brokerage, had a strong quarter. Revenue in the unit rose to $4.4 billion from $4.1 billion in the period a year earlier.
One of the criticisms of banks since the financial crisis is that, as they work through their difficulties, they have failed to lend enough. Bank of America had on its books a smaller amount of loans to individuals in the first quarter. The figure was down to $551 billion from $599 billion. But the bank's loans to companies rose to $355 billion from $315 billion in the year-earlier period.
While Bank of America's earnings per share increased a lot when measured using generally accepted accounting principles, it was actually down on a measure that investors often look at. This nonstandard metric excludes arcane accounting charges. Absent those charges in the first quarter of 2012, the bank made 31 cents a share.
This year's first quarter contained very little effect from such charges, so the 20 cents a share the bank reported Wednesday should be compared with the 31 cents a share from the period a year earlier. In effect, under this approach, Bank of America's earnings fell by more than a third.
Article source: http://dealbook.nytimes.com/2013/04/17/bank-of-america-earnings-rise-but-fall-short-of-forecasts/?partner=rss&emc=rss