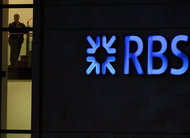 Jeff J. Mitchell/Getty ImagesThe Royal Bank of Scotland said that it expected to enter into negotiations with authorities soon about a potential settlement .
8:53 a.m. | Updated
LONDON — Royal Bank of Scotland said on Friday that it would probably face financial penalties connected to the broad rate-rigging inquiry, as the British bank reported a net loss in the third quarter of the year.
The bank, which is 81 percent owned by the British government after receiving a bailout during the recent financial crisis, is the latest British firm to unveil legal troubles this week.
On Wednesday, the U.S. Federal Energy Regulatory Commission recommended a $470 million fine against Barclays related to past energy trading activity in the firm's North American operations. The bank said it would defend itself against the allegations. Barclays and local rival Lloyds Banking Group also disclosed that they had set aside additional money to compensate clients who had been inappropriately sold insurance.
R.B.S.' legal woes relate to a broad industry investigation into potential rate rigging.
The Commodity Futures Trading Commission, the Department of Justice and other authorities around the world are looking into whether big banks tried to influence key benchmarks, including the London interbank offered rate, or Libor. In June, Barclays agreed to pay $450 million to settle charges that it attempted to manipulate Libor to improve profits and make its financial position look stronger.
R.B.S., which is based in Edinburgh, said on Friday that it expected to enter into negotiations with authorities about a potential settlement in the near future. The firm's chief executive, Stephen Hester, declined to say when those talks might begin or how big the potential fine could be. Mr. Hester said the that bank would likely make an announcement over the matter before reporting its next earnings on Feb. 28.
"We have to dance to the tune of the relevant regulators," Mr. Hester said on a conference call with journalists.
R.B.S. faces a broader set of troubles.
On Friday, the bank said it posted a net loss of £1.4 billion, or $2.3 billion, in the three months through Sept. 30 after setting aside more money to compensate customers who were inappropriately sold insurance and taking a charge on its own debt. The bank reported a £1.2 billion net profit in the same period last year after it benefited from a financial gain on its own debt.
Without the adjustments, its pretax profit in the third quarter rose to just over £1 billion, compared with £2 million in the same period last year.
Analysts said R.B.S. had made great strides to reduce its exposure to risky assets and pare back its balance sheet since the financial crisis began. Yet continued weak underlying performance, coupled with expected future losses in the fourth quarter of the year related to one-off charges like a potential Libor fine, remains a concern.
"The management has made good progress," said Ian Gordon, a banking analyst at Investec Securities in London. "But for me, the bank's earnings outlook hasn't improved."
Royal Bank of Scotland shares fell 1 percent in morning trading in London. Stock in the bank has risen almost 22 percent so far this year.
The British bank said it had made a new provision of £400 million to reimburse clients who were sold payment protection insurance, which covered customers if they were laid off or became ill. Many customers did not know they had been sold the insurance when they took out loans or mortgages. Others have found it difficult to make claims on the policies, which often paid out only small amounts.
In total, the bank said it had now set aside a combined £1.7 billion to compensate customers. Britain's banks, including Barclays and HSBC, have made total provisions worth almost £11 billion to reimburse clients, and analysts say that figure may rise to £15 billion.
"All of the banks have been guilty of underestimating the response rate," to payment protection insurance, Bruce Van Saun, chief financial officer of R.B.S., told reporters on Friday.
In an effort to repay the British government's bailout, the bank has been trying to sell assets and raise additional cash. Last month, the firm earned £787 million through the initial public offering of its insurance unit Direct Line. The bank failed to sell a number of its branches in Britain for around £1.7 billion, however, after Banco Santander of Spain backed out of the deal.
Despite the tough economic conditions across Europe, the bank said pretax profit in its investment banking unit reached £295 million in the third quarter, compared with a £348 million net loss during the same period last year. The bank has been scaling bank its risky trading activities through actions like closing or selling its cash equities unit and spinning off of its advisory business.
The number of employees in the investment banking division fell 5 percent, to 11,900, during the three months through Sept. 30. Earlier this year, the bank said it planned to layoff around 3,500 people in the unit.
The bank's retail and commercial banking unit continued to suffer from weak consumer confidence related to the European debt crisis. Pretax profit in the division fell 7 percent, to £1.1 billion, during the third quarter.
---
This post has been revised to reflect the following correction:
Correction: November 2, 2012
An earlier version of the story incorrectly state that Barclays settled over the rate-rigging investigation in July. It settled the matter in June.
Article source: http://dealbook.nytimes.com/2012/11/02/r-b-s-expects-libor-fine-amid-third-quarter-loss/?partner=rss&emc=rss