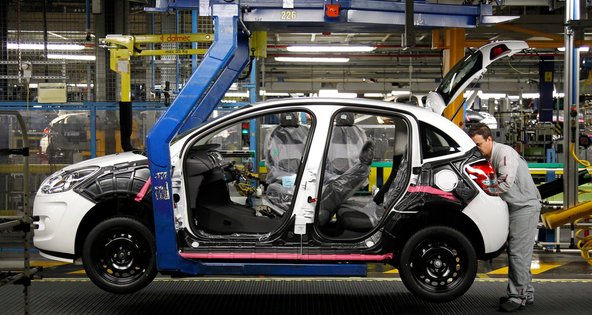 Benoit Tessier/ReutersA Citroen C3 is assembled at PSA Peugeot Citroën's plant in Poissy, France.
PARIS — PSA Peugeot Citroën said Thursday that it was negotiating to sell its Gefco logistics business to J.S.C. Russian Railways as the French automaker struggles to stay afloat in a faltering European car market.
PSA Peugeot Citroën, the second-largest automaker in Europe after Volkswagen, has entered exclusive negotiations to sell 75 percent of Gefco for 800 million euros, or about $1 billion. Gefco would also pay Peugeot a special dividend of 100 million euros.
The French automaker is reeling from its has heavy exposure to the European market and its dependence on relatively low-margin models. European new passenger car registrations are down 7.1 percent this year, and — with the euro zone in recession and uncertainty about the existence of the currency itself — analysts are not predicting a near-term turnaround.
A Finance Ministry report this month commissioned by President Francois Hollande found that PSA Peugeot Citroen needed to move quickly to close a French factory and cut thousands of jobs. It's an indication of the gravity of the situation in a country where mass layoffs are discouraged.
Fitch Ratings cut its rating on PSA Peugeot Citroën on Wednesday, saying that it expected the company to burn cash through 2014 and that it was concerned about the carmaker's ability to compete in the market for small and medium-size cars. The credit rating agency noted that it was unlikely that "the ongoing fierce competition and substantial price pressure" will abate in the near term.
PSA Peugeot Citroën said the deal, which is contingent on regulatory approval, would help Gefco to grow in China, India Latin America, as well as in Eastern and Central Europe, particularly Russia.
Earlier this year, Gefco, which had 2011 sales of 3.8 billion euros, signed an exclusive long-term logistics contract with PSA Peugeot Citroën's automotive division. In late June, it reached a similar deal with General Motors Europe, under which it is to supply G.M.'s factories in Poland, Spain, Britain, Germany and Russia and annually ship 1.2 million finished vehicles across the world.
For the Russians, the acquisition is a foothold in the Europe that is important strategically, despite the risks in the economy that are troubling Peugeot. JSC Russian Railways, known as RZD, wants to develop an overland freight service between Asia and Europe for cargo that now travels on a longer and more circuitous journey by boat. It would use the trans-Siberian railway.
"The acquisition of Gefco would enable Russian Railways to increase the attractiveness of transit cargo flows along the Europe – Asia transcontinental route," RZD said in a statement about the talks with Peugeot. "Russian Railways can offer competitive transportation services along this route after undertaking a significant amount of work recently. The next logical step is to develop a sales network for transit transcontinental transportation services via an international logistics company."
Article source: http://dealbook.nytimes.com/2012/09/20/peugeot-in-talks-to-sell-logistics-business/?partner=rss&emc=rss