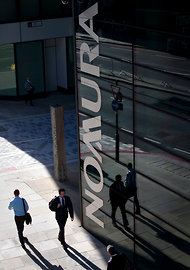 Simon Dawson/Bloomberg NewsNomura also eliminated 1,000 jobs last year as part of a cost-cutting.
8:38 p.m. | Updated
TOKYO — Nomura Holdings, the scandal-hit Japanese investment bank, outlined a broad reorganization plan on Thursday that would pare back its business to a shadow of what it held after acquiring parts of Lehman Brothers in 2008.
Most of the $1 billion in cuts, initially announced last week, will be made abroad. They are driven by a grim outlook for the global economy, Koji Nagai, Nomura's new chief executive, told analysts and investors at the company's headquarters in Tokyo.
Nomura's operations in Europe, which will account for 45 percent of the cost savings, and the Americas, which will account for 21 percent, will take the brunt of the cutbacks, the bank said.
Though Mr. Nagai declined to specify the number of jobs Nomura would eliminate, the company said it would shave $450 million from personnel expenses. Other cuts would come from savings made by optimizing spending on information technology, the bank said.
"We will take stock of the company from the roots upward and rebuild," Mr. Nagai said.
It has been a swift and striking fall for Nomura. For a nominal sum, it bought the Asian and European operations of Lehman Brothers, the American brokerage firm that failed in 2008, and set out to build a global investment franchise.
But that acquisition saddled Nomura with huge personnel costs, and the task of marrying two vastly different corporate cultures undermined efforts to capitalize on Lehman's talent pool.
Many top Lehman executives left Nomura, and it was forced to cut costs and try to end the hemorrhaging of money in its wholesale operations, which include equities, fixed income and investment banking. Nomura's foreign operations have lost money for nine consecutive quarters.
One of the last Lehman executives at Nomura, William Vereker, stepped down this week as joint head of investment banking. He is widely expected to leave the company soon.
Compounding the problems, an insider trading scandal in Japan this year led Nomura to replace its chief executive, Kenichi Watanabe, who had handled the bank's takeover of Lehman and had pushed for global expansion. His successor, Mr. Nagai, had been head of the Japanese domestic securities unit.
Under Mr. Nagai, the bank is narrowing its global aspirations and will focus closer to home in Asia, where it can better leverage its dominant position in Japan, senior executives said.
"When the global economy comes back, the recovery will start in Asia," Atsushi Yoshikawa, Nomura's new chief operations officer, said, "so we place great weight on Asia. But we have no plans to make aggressive investments like the kind we've made in America over the past three years. We intend to make good with what we have."
The latest retrenchment comes on top of a $1.2 billion cost-cutting Nomura struggled through last year. That effort eliminated 1,000 jobs.
The company plans to scrutinize sectors or businesses that perform poorly for two years in a row. Nomura's electronic brokerage unit Instinet, which it bought in 2006, will handle most equities execution outside Japan.

Hisako Ueno contributed reporting.
A version of this article appeared in print on 09/07/2012, on page B5 of the NewYork edition with the headline: Nomura Seeks to Save $1 Billion By Scaling Back Mainly in Europe.
Article source: http://dealbook.nytimes.com/2012/09/06/nomura-outlines-1-billion-restructuring/?partner=rss&emc=rss