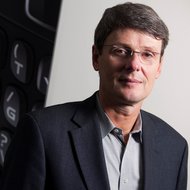 Geoff Robins/ReutersThorsten Heins, chief of Research in Motion.
Despite the problems at Research in Motion, the company's incoming chief executive says he is not entertaining the idea of splitting the company into two separate businesses.
Thorsten Heins, who was named chief executive of RIM on Monday, said on a conference call that he thought RIM had a "very strong technology heritage," and that he did not plan to separate RIM's device business, which includes the BlackBerry and the PlayBook tablet, from its network business.
"We have fantastic devices in a fantastic ecosystem," Mr. Heins said. "I don't think there is some drastic change needed."
The former co-chiefs, Jim Balsillie and Mike Lazaridis, have long been viewed as obstacles to a potential takeover of the struggling company, whose share price has fallen precipitously in the last year.
Mr. Balsillie and Mr. Lazaridis, who are among the largest shareholders of the company, said in December that they intended to retain control of the business, and that they were "more committed than ever to addressing the issues at hand," including poor sales of the PlayBook and delays in delivering the new BlackBerry 10 operating system.
On Monday, Mr. Heins did not directly address the possibility of a sale or takeover, but emphasized RIM's core strengths and asserted that the company's "passionate and loyal customer base" would stand by it despite recent difficulties.
"We are stronger today because of what we've been going through," he said.
Mr. Heins spoke of the need to be "more marketing driven" and "more consumer oriented" in its approach to BlackBerry development, but said he would not abandon RIM's focus on enterprise customers or change its plans for BlackBerry 10.
BlackBerry stalwarts may have appreciated Mr. Heins's apparent strategy of doubling down on the company's existing plans, but the market was far from celebratory. Shortly after the Monday conference call, RIM's stock, which had been up approximately 5 percent in premarket trading, was down more than 4 percent after the opening of trade.
Article source: http://feeds.nytimes.com/click.phdo?i=00c9431877467be9e6b4b4aecef4a490