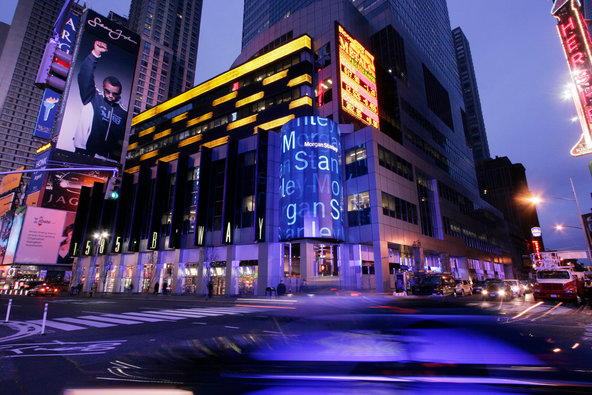 Mark Lennihan/Associated PressMorgan Stanley's headquarters in New York.
Morgan Stanley shares rose sharply Thursday morning on news that the company planned to buy back a chunk of its own stock.
News of the buyback came as Morgan Stanley reported adjusted second-quarter earnings that slightly beat analysts' estimates, driven by a strong performance from its wealth management unit and equity sales and trading.
Related Links
Including charges, the firm reported that second-quarter profit applicable to Morgan Stanley common shareholders rose 42 percent, to $802 million, or 41 cents a share, from $564 million, or 29 cents a share, in the period a year earlier. Overall net income was $980 million, compared with $591 million in the period a year earlier.
The results, however, were affected by two big charges, one related to Morgan Stanley's credit spreads and the other to its recent purchase of the remaining stake of its wealth management business. Excluding those charges, the firm had a profit of $872 million, or 45 cents a share. That beat the estimates of analysts polled by Thomson Reuters, which had projected a profit of 43 cents a share.
Morgan Stanley's adjusted revenue rose to $8.3 billion in the second quarter from $6.6 billion in the period a year earlier.
The stock surged more than 4 when the market opened on the back of an announcement in the firm's earnings release that it was buying back $500 million of its shares. Morgan Stanley shares were trading above $27 on Thursday.
Morgan Stanley's chief executive, James P. Gorman, said in a statement that he was looking forward to the full benefits of the recently completed Wealth Management acquisition, which the bank took full control of in the quarter.
That unit, with 16,321 financial advisers, posted net revenue of $3.53 billion, up more than 10 percent. Its pretax profit margin, a widely watched figure on Wall Street, came in at 18.5 percent. That margin, which previously had been running around 17 percent, is ahead of where the company had hoped it would be at this time.
The second quarter was a particularly important one for Morgan Stanley, which received approval from regulators last month to buy the remaining stake in its wealth management division, a joint venture it formed with Citigroup in the depths of the financial crisis. Since the crisis, Morgan Stanley has tried to diversify its earnings, moving away from riskier business like trading, and into wealth management, which offers steady, albeit lower returns. Its ability to purchase all of that division gave it full control over the operation and the full share of the profits.
Institutional securities, which houses Morgan Stanley's banking and trading operations, posted net revenue, excluding the debt charge, of about $4.2 billion, up almost 40 percent from figures in the period a year earlier.
The firm experienced a solid increase in revenue from various segments in this department, including debt and equity underwriting, investment banking, and currency and commodities trading.
The fixed-income sales and trading unit reported that adjusted revenue rose to $1.2 billion from $771 million in the period a year earlier. This year's performance was slightly below what analysts were hoping for.
Morgan Stanley is the last big bank to report second-quarter earnings, and results have been generally strong as lenders seem to be benefiting from a pickup in the United States economy. Goldman Sachs, for instance, reported that its net income doubled, beating analyst expectations handily.
Article source: http://dealbook.nytimes.com/2013/07/18/morgan-stanley-profit-rises-42-percent/?partner=rss&emc=rss