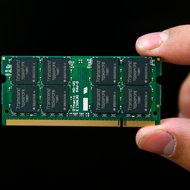 Nicky Loh/ReutersElpida Memory, the world's third-largest maker of PC memory chips, filed for bankruptcy in February.
Micron Technology has agreed to buy Elpida Memory for $2.5 billion in a bid to bolster its manufacturing capacity.
Under the deal, Micron Technology will buy the bankrupt Japanese chip maker for 60 billion yen ($754 million) in cash. Micron will then pay 140 billion yen in upcoming annual installments to cover Elpida's debt.
Micron, based in Boise, Idaho, also announced on Monday that it was buying a 24 percent stake in the Rexchip Electronics Corporation from the Powerchip Technology Corporation for about $334 million. Since Elpida owns a 65 percent stake in Rexchip, Micron will own 89 percent of that company once both deals close.
Elpida, which makes dynamic random-access memory chips used in personal computers and other products, filed for bankruptcy earlier this year amid mounting debt and falling chip prices. Although some analysts questioned Micron's appetite for all of Elpida, the deal would allow Micron to expand its manufacturing capacity at a relatively low price.
Elpida owns a large chip fabrication factory in Hiroshima, Japan, while Rexchip has one in Taiwan along with a testing facility in Akita, Japan. According to a Micron news release, the deals should increase manufacturing capacity by 50 percent.
"We get significantly inexpensive or less costly assets," Ronald C. Foster, Micron's chief financial officer, said in a conference call on Monday morning. "It's a very economic solution for us."
By expanding capacity, Micron will also be able to better adjust to the fluctuations of the chip industry, a business where pricing can fall or rise sharply based on supply. When pricing is strong, Micron would be able to easily ramp up production in Elpida's fabrication facilities. While Elpida is best known for the types of chips used in PCs, Micron said it would have the flexibility to produce a variety of products.
The cross-border deal is not expected to close until the first half of 2013 and is subject to regulatory approvals. According to Micron's chief executive, D. Mark Durcan, once it closes, the deal is expected to bolster cash flow within the first 12 months.
Article source: http://dealbook.nytimes.com/2012/07/02/micron-to-acquire-elpida-memory-in-deal-valued-at-2-5-billion/?partner=rss&emc=rss