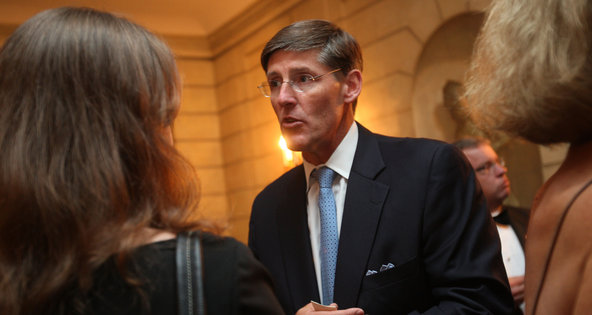 Hiroko Masuike for The New York TimesMichael Corbat was the head of Citigroup's European and Middle Eastern division.
When Michael L. Corbat was an all-conference lineman on the Harvard football team 30 years ago, he seemed better positioned for the N.F.L. gridiron than the Wall Street trading floor.
"It has given me everything that I would have hoped for," the 230-pound Mr. Corbat told The Harvard Crimson at the time, referring to his college career.
But Mr. Corbat earned an economics degree in 1983, and on Tuesday he took the reins at Citigroup, succeeding Vikram S. Pandit, who stepped down after five years in charge of the bank.
"The fundamentals we have in place today are solid, and we are on the right path," Mr. Corbat said in a statement announcing the personnel change.
Mr. Corbat, 52, has been a Citigroup lifer. After Harvard, he joined Salomon Brothers, which was taken over by Citi in 1998. He started as a bond salesman in Atlanta, before climbing to managing director for high yield and derivatives.
"He is a great guy — knows clients and products well," said Robert Wolf, the former UBS executive who worked with Mr. Corbat for about 10 years at Salomon Brothers and now runs the consulting firm 32 Advisors. (The pair also bonded over their Ivy League football careers, recalled Mr. Wolf, who played for the University of Pennsylvania.)
At Citigroup, executives portray Mr. Corbat as a jack-of-all-trades. He has worked many divisions, including investment banking and retail banking. The bank most recently dispatched Mr. Corbat to London to become chief executive of Citigroup's broad operations in Europe, Africa and the Middle East.
His other management roles covered sales and trading, and corporate and commercial banking. When the bank ousted Sallie L. Krawcheck at the height of the 2008 financial crisis, Mr. Corbat took over as head of the global wealth management unit.
"From his nearly three decades at the company he brings deep and varied operating experience across a broad spectrum of the financial services industry," Michael E. O'Neill, chairman of the Citigroup board, said in a statement on Tuesday.
In perhaps his most important role, Mr. Corbat helped steer the bank through the financial crisis. As head of Citi Holdings, the "bad bank" created in the aftermath of the crisis, he oversaw Citigroup's disastrous mortgage portfolio and the sale of several noncore businesses. Citigroup slowly regained its footing, and Mr. Corbat, who made $9 million in 2010, became a potential heir to Mr. Pandit.
The board wants "to open a new chapter and this will do it well," said Sheila Bair, former head of the Federal Deposit Insurance Corporation and a critic of Mr. Pandit. She knows Mr. Corbat from run-ins during the dark days of the financial crisis.
"He was involved in several meetings with us," she said in an interview with DealBook, adding, "He was prepared and he knew his stuff."
A native of Bristol, Conn., Mr. Corbat is also active in the Swedish American Chamber of Commerce and is a board member of the United States Ski and Snowboard Team.
At Harvard, he was known as something of a ladies' man. "The ladies who serve and prepare the food at Currier House all have crushes on senior Mike Corbat," The Harvard Crimson wrote in 1982.
The campus hype spawned talk of an N.F.L. career, but Mr. Corbat was set one on Wall Street.
"I'm just not psyched to be somebody's piece of meat somewhere," he said.
Article source: http://dealbook.nytimes.com/2012/10/16/meet-citis-new-c-e-o/?partner=rss&emc=rss