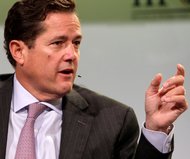 Yuri Gripas/ReutersJames E. Staley had been JPMorgan's head of investment banking until this summer.
James E. Staley, a longtime JPMorgan Chase executive who served as the firm's head of investment banking until this summer, is leaving the bank to join BlueMountain Capital Management as a managing partner, the hedge fund said on Tuesday.
The firm he is joining, a nine-year-old hedge fund with $12 billion in assets, profited from betting against JPMorgan by taking the other side of a bet on corporate debt that eventually cost the bank billions of dollars in May. The hedge fund then helped the Wall Street firm clear out its positions through another series of trades.
Mr. Staley's departure from JPMorgan ends a 34-year career at the bank, which stretched back to the original J.P. Morgan Company. He worked in a wide variety of roles, from the Brazilian office to the head of the equity capital markets and syndicate divisions to the head of wealth management.
Mr. Staley, an avid sailor known to most as Jes, became the chief executive of investment banking in fall 2009, presiding over the division's expansion in the wake of the financial crisis.
But several months after the disclosure of the trading loss, JPMorgan shook up its management team. It gave Mr. Staley the new title of head of corporate and investment banking. To some inside the bank, the move effectively sidelined him in a position that was more symbolic than substantive.
At BlueMountain, Mr. Staley will be the firm's ninth managing partner and will join the management, risk and investment committees. He will also buy an undisclosed stake in the firm.
"I'm very excited to be joining BlueMountain at a time when sea changes in the financial industry, combined with the firm's unique strengths, open up enormous possibilities to deliver value to clients," Mr. Staley said in a statement. "I want to thank all my colleagues at JPMorgan, my home for the last 34 years, and I look forward to working with them in the future."
JPMorgan Chase's chief, Jamie Dimon, sent a memo to employees on Tuesday morning:
To: All Senior Managers
From: Jamie Dimon
Subject: Jes Staley

This morning it was announced that our colleague, Jes Staley, will be leaving JPMorgan Chase to join BlueMountain Capital Management as a Managing Partner and Member of its Management Committee. Attached is BlueMountain's press release.

Jes has been an extraordinary leader and a valued partner for many of us at JPMorgan over the years. He joined our company more than 34 years ago, and during this time he served in many critical management roles, including head of our Investment Bank, Asset Management group, Private Bank, and as one of the founders of our equities business. He has served our firm with distinction as a member of our firmwide Operating Committee, and he has been a trusted mentor to many people at our company.

While Jes is leaving JPMorgan Chase, he is joining a respected private investment firm, BlueMountain Capital. BlueMountain is an important client of ours, and we look forward to working with Jes in the future. Please join me in thanking Jes for his decades of dedicated service to JPMorgan, and in wishing him and his family all the best in the future.

Jamie
Article source: http://dealbook.nytimes.com/2013/01/08/jpmorgans-staley-to-join-bluemountain-capital/?partner=rss&emc=rss