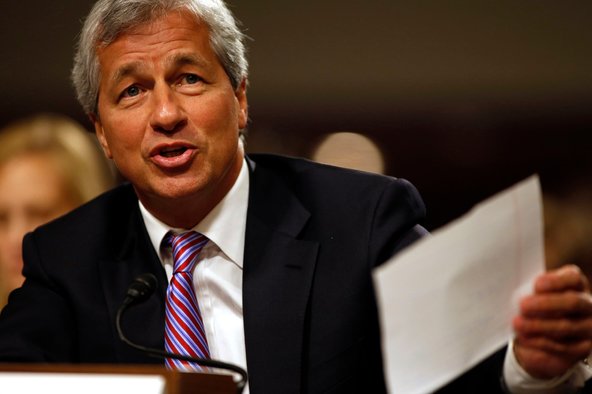 Larry Downing/ReutersJamie Dimon, the chief of JPMorgan Chase, at a Senate panel last year.
JPMorgan Chase, the nation's largest bank, reported a 33 percent rise in first-quarter earnings on Friday, bolstered by gains in the investment banking business and a surge in mortgage lending.
"All our businesses had strong performance, and our client franchises did exceptionally well," Jamie Dimon, the bank's chief executive, said in a statement.
Related Links
As the economy recovers slowly, demand for loans remained stagnant. JPMorgan said total loans at the bank fell 1 percent. Yet gains from investment banking allowed JPMorgan to record 12 consecutive quarters of profit.
Within the investment banking unit, assets grew by 8 percent to $19.3 trillion for the first quarter. Fees rose 4 percent, to $1.4 billion.
The net earnings of $6.5 billion, or $1.59 a share, exceeded Wall Street analysts' expectations of $5.41 billion, or $1.40 a share. Revenue was $25.8 billion, compared with $26.8 billion in the same period a year earlier.
The report kicked off the bank earnings season. As the nation's largest bank by assets, JPMorgan is often looked at as a bellwether.
A bright spot for JPMorgan's earnings was mortgage lending, fueled in part by federal programs that have helped damp interest rates. Those low rates have prompted homeowners to refinance. In total, the mortgage banking group posted a profit of $673 million for the first quarter, down 31 percent from a year earlier.
Mortgage originations rose 37 percent in the quarter, to $52.7 billion. Still, application volumes were down, 1 percent from a year earlier, settling in at $60.5 billion. Appetite for loans was dampened, the bank said, by an uptick in interest rates earlier this year.
"We are seeing positive signs that the economy is healthy and getting stronger," Mr. Dimon said. "Housing prices continued to improve, and new home purchases are also starting to come back.
The bank's credit card business also improved, with sales volume rising to $94.7 billion, an increase of 9 percent from the same quarter a year earlier, but down 7 percent from last quarter. Auto lending also grew by 12 percent from a year earlier to $6.5 billion.
The results point to some of the larger challenges facing the nation's biggest banks. As low interest rates continue to undercut profits, banks like JPMorgan are under pressure to cut expenses.
JPMorgan said on Friday that its total head count continued to fall, reaching 255,898. Non-interest expenses plummeted by 16 percent to $15.42 billion from a year earlier.
The bank has pinned some of its hopes for future profitability on its asset management business, as profits from riskier businesses like trading get undercut by a spate of new regulation. The asset management business reported net income of $487 million for the quarter, up 26 percent from a year earlier.
JPMorgan continued to gain business in private banking, accumulating $2.2 trillion in assets under management, up 8 percent from a year earlier.
Some of the strength in earnings, however, were helped by JPMorgan's decision to reduce reserves for mortgages and credit-card loans. By moving money from the reserves, which cushion the bank against potential loses, the bank got a net 18 cent gain a share.
Addressing questions on Friday about whether the earnings are deceptively strong, Mr. Dimon said in a conference call that even after the reserve reductions, "we had really good numbers everywhere."
Another quarter of earnings offers JPMorgan another chance to move beyond the multibillion-dollar trading loss that has dogged the bank. During the bank's quarterly earnings call in January, for example, Mr. Dimon said that the latest quarter signaled the end of the trading debacle. "We are getting near the end of it," he said.
Since announcing the trading loss last May, JPMorgan and its influential chairman, Mr. Dimon, have struggled to reassure skittish investors and defray a series of federal investigations related to the bungled wagers on complex-credit derivatives. Mr. Dimon has testified before Congress, vastly reshuffled its executive ranks and fortified risk controls. In January, JPMorgan's board slashed Mr. Dimon's compensation by 50 percent to $11.5 million.
More recently, Senator Carl Levin, Democrat of Michigan, grilled current and former senior executives at the bank about lax oversight policies and gulfs in risk management. The Congressional hearing, which lasted for nearly four hours, renewed pressure on Mr. Dimon and the bank. At times, senior executives floundered as they tried to combat lawmakers' accusations that the officials misled investors and regulators about the soured bet. The hearing came just a day after a scathing 300-page report into the losses.
Mr. Dimon has struck a more contrite tone, seemingly chastened by the continued fallout from the trading losses. In his annual letter to shareholders, released on Wednesday, Mr. Dimon repeatedly apologized for the losses. He described the losses as the "the stupidest and most embarrassing situation I have ever been a part of," vowing to continue to bolster risk controls and rout out problems.
Rather than taking a combative tone toward regulations that rein in Wall Street, Mr. Dimon expressed regret for how the trading losses "let our regulators down."
In his letter, Mr. Dimon also warned shareholders that the bank would continue to face regulatory challenges in the "coming months." JPMorgan, Mr. Dimon said, will deploy resources to improve firmwide controls on risk and compliance. "We are reprioritizing our major projects and initiatives," he said.
The earnings on Friday come just a month before JPMorgan's annual shareholder meeting, where the results of a crucial vote will be announced. Shareholders will decide whether to strip Mr. Dimon of his chairman title, a role he has held since 2006. Ahead of the nonbinding vote, JPMorgan has been working behind the scenes to make their case to shareholders that Mr. Dimon should keep the dual roles.
Article source: http://dealbook.nytimes.com/2013/04/12/jpmorgan-shows-strength-in-quarter/?partner=rss&emc=rss