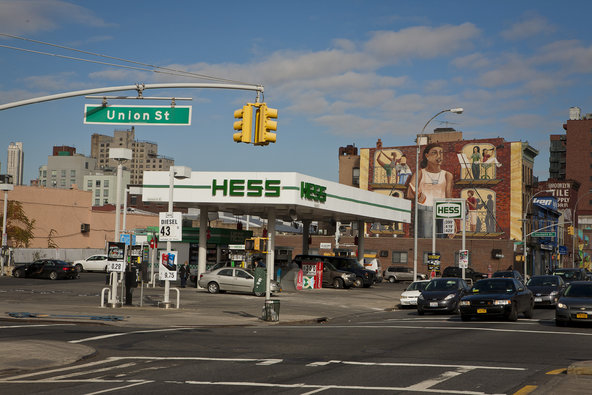 Ángel Franco/The New York TimesA Hess gas station in Brooklyn.
The Hess Corporation said on Monday that it planned to sell its retail, refining and processing businesses and alter its board in a bid to shake up its operations and fend off activist investors.
Hess pitched its wide-ranging plans, which include raising its dividend and buying back up to $4 billion worth of stock, as the culmination of a multiyear campaign to improve its operations and refashion itself into a leaner oil exploration and production company.
Related Links
"It's the logical endpoint of our five-year plan," John B. Hess, the company's chief executive and the son of its founder, said in an interview by phone on Monday. The company did not offer any estimates on how much it expected to raise from the sale proceeds.
The moves come after a public fight waged by Elliott Management, which owns a 4 percent stake in Hess and is mounting one of the biggest activist investor campaigns in recent years. Elliott nominated five candidates for Hess's board last month, in what the firm said was an attempt to force Hess into becoming more disciplined about its operations and spending.
Elliott was later joined by Relational Investors, an activist hedge fund with deep roots in the oil industry.
But Mr. Hess argued that the new initiatives were not developed in response to Elliott's charges. Instead, he said, the plans could be traced back to efforts he undertook upon becoming chief executive in 1995.
"Elliott got on the train after it left the station," Mr. Hess said.
In a letter to investors, Hess said it planned to dispose of its so-called downstream assets, after having already announced plans to sell its network of oil terminals. The company also plans to sell its holdings in Indonesia and Thailand.
Some of the proceeds from those sales will go toward raising the company's dividend to $1, from 40 cents, as well as committing to the share repurchase plan.
Hess will also consider ways to gain additional cash from its operations in the Bakken shale formation in the northern United States in 2015. Mr. Hess said one possible move could be placing the assets into a master limited partnership, which would yield tax advantages, but that the business needed further development before any such move could happen.
Perhaps most prominent, Hess named six new directors to its board, most of whom are former oil industry executives. They include John Krenicki Jr., a former head of GE Energy; William Schrader, a former chief operating officer of TNK-BP; and James H. Quigley, a former chief executive of Deloitte.
In naming its director candidates last month, Elliott criticized the company's board as being largely a collection of cronies with ties to the Hess family. Mr. Hess defended the departing directors as having helped shape the company's current strategy, but acknowledged that the board needed some new blood.
The directors who are leaving include Thomas Kean, a former governor of New Jersey; Samuel A. Nunn, a former United States senator from Georgia; and Gregory P. Hill, Hess's president of worldwide exploration and production.
"While our board was substantive, we realized the optics were an issue," he said. "With the new company that we're becoming, we feel that we have the right people for the board."
Hess also used its letter to rebut Elliott's proposals for the company, including breaking up its operations into two companies – one focused on finding and producing oil from overseas sites, and one concentrating largely on the Bakken shale formation in the United States.
The company argued in its letter that what Elliott had called for would produce only a short-term bounce in its stock price and was "flawed" and unfeasible.
Mr. Hess said he had not heard from Elliott since the hedge fund went public last month with its complaints, and had not heard from Relational since last year, but said he would be willing to talk to the hedge fund if it approached him.
---
This post has been revised to reflect the following correction:
Correction: March 4, 2013
An earlier version of this article misspelled the name of a new Hess board member. He is William Schrader, not Scrader.
Article source: http://dealbook.nytimes.com/2013/03/04/hess-to-sell-refining-arm-and-revamp-its-board/?partner=rss&emc=rss