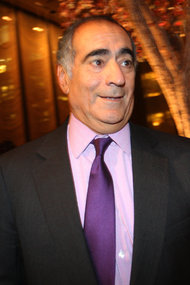 Hiroko Masuike for The New York TimesJohn Mack, the former chief of Morgan Stanley.
LONDON – Glencore Xstrata has named John J. Mack, a former chief executive of Morgan Stanley, and Peter T. Grauer, executive chairman of information provider Bloomberg L.P., as nonexecutive directors to its board.
The mining and commodities trading company is rearranging its board following the combination of Glencore International and Xstrata, which was completed last month. The company also named Peter Coates as an executive director; he advised Glencore Xstrata's chief, Ivan Glasenberg, on the integration.
Glencore Xstrata is still searching for a chairman after the departure of John Bond, who failed to receive enough shareholder support at an investor meeting in May over anger about a plan to pay extremely high bonuses to retain some Xstrata managers. Tony Hayward, a former chief executive of BP who sits on Glencore Xstrata's board, was appointed to fill the position on an interim basis until a permanent successor could be found.

Mr. Hayward said on Wednesday that the new directors had "an excellent business track record and extensive international experience, which we believe will prove invaluable in continuing the strength of debate and challenge which has typified the operation of the company's board."
Mr. Mack retired as chairman of Morgan Stanley in 2011 and continues to be a senior adviser to the bank. He was Morgan Stanley's chief executive from 2005 until 2009. Mr. Grauer was previously chief executive of Bloomberg and a senior partner at Credit Suisse's private equity business. Mr. Coates previously managed Xstrata's coal business after the company bought Australian and South African coal assets from Glencore.
Article source: http://dealbook.nytimes.com/2013/06/12/glencore-xstrata-appoints-john-mack-to-board/?partner=rss&emc=rss