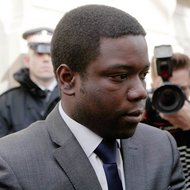 Andrew Winning/ReutersKweku M. Adoboli, a former UBS trader, outside a London court in October.
LONDON – Kweku M. Adoboli, the former UBS trader charged with false accounting related to a $2.3 billion trading loss, was granted bail by a London court on Friday.
Mr. Adoboli, 32, has to stick to a curfew but can stay at a friend's house wearing an electronic tag as part of the bail agreement. Southwark Crown Court, where an earlier bail application by Mr. Adoboli was rejected in February, did not disclose financial details of the bail deal.
Tim Harris, Mr. Adoboli's lawyer at Bark Company, said his client was "delighted" and would like to thank family and friends for their support in achieving his release. Mr. Adoboli is expected to be released from London's Wandsworth prison as early as Monday, Mr. Harris said.
Mr. Adoboli had pleaded not guilty to counts of false accounting and fraud. He was arrested in September after UBS alerted the police. The bank claimed that Mr. Adoboli had masked the billion dollar losses from internal controls with fictitious trades. Mr. Adoboli has remained in custody ever since his arrest.
The trading scandal rocked the Swiss bank and led to the resignation of its chief executive, Oswald J. Grübel.
Denying Mr. Adoboli bail in February, the judge said that the allegations against the former trader were "serious" and "backed up with cogent evidence."
Mr. Adoboli's trial is set to start on Sept. 3, and the judge said it was likely to last about eight weeks.
Article source: http://dealbook.nytimes.com/2012/06/08/former-ubs-trader-is-granted-bail/?partner=rss&emc=rss