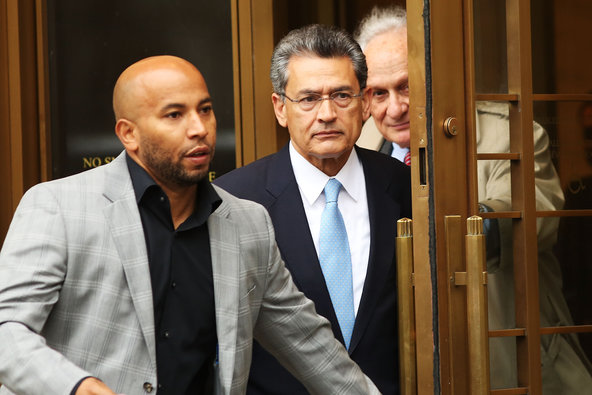 Spencer Platt/Getty ImagesRajat Gupta, center, a former Goldman Sachs director, was sentenced to two years in prison last year in an insider trading case.
8:28 p.m. | Updated It was perhaps the most critical piece of evidence in the trial of Rajat Gupta, the former Goldman Sachs director found guilty last year of leaking the bank's boardroom discussions to his hedge fund friend.
"I heard yesterday from somebody who's on the board of Goldman Sachs that they are going to lose $2 per share," his friend, the money manager Raj Rajaratnam, told a colleague during an October 2008 conversation that federal investigators secretly recorded.
On Tuesday, a lawyer for Mr. Gupta argued that a federal appeals court should overturn his client's conviction and grant a new trial because the verdict was tainted by the erroneous admission of that statement and other wiretapped conversations.
"The wiretaps should never have been admitted," said Mr. Gupta's lawyer, Seth P. Waxman, during the argument at the United States Court of Appeals for the Second Circuit in Manhattan.
Last June, a jury convicted Mr. Gupta, 64, of sharing Goldman's confidential information with Mr. Rajaratnam. The presiding trial court judge, Jed S. Rakoff, sentenced Mr. Gupta to two years in prison. A year earlier, Mr. Rajaratnam was found guilty at trial and given an 11-year sentence. His appeal is also pending.
The men, who came to this country from South Asia as university students and rose to the highest ranks of business, are two of the most prominent figures caught up in the government's crackdown on illegal conduct on Wall Street trading floors. Since 2009, the United States attorney in Manhattan has charged 81 individuals; of those, 73 have either pleaded guilty or been convicted.
With his freedom hanging in the balance, Mr. Gupta attended Tuesday's hearing, accompanied by his wife, his four daughters and about a dozen friends. He was once one of the world's most admired executives, having served for a decade as the global chairman of the management consultancy McKinsey Company. Mr. Gupta, who lives in Westport, Conn., is free on bail pending the outcome of his appeal.
The hearing, in a cramped courtroom in the stately old federal courthouse building on Foley Square, was packed with spectators. About two dozen summer law school interns from Mr. Waxman's firm, WilmerHale, came to watch, as did a class of curious high school students from the Beacon School on the Upper West Side. The youth-filled courtroom pushed several members of Mr. Gupta's large legal team and a group of senior government prosecutors into a crowded anteroom, where they watched a televised simulcast of the proceeding.
Mr. Waxman tried to convince the three-judge panel — Jon O. Newman, Amalya L. Kearse and Rosemary S. Pooler — that the lower court had made a series of incorrect rulings at trial. Much of the discussion centered on a ruling by Judge Rakoff that curtailed the testimony of Mr. Gupta's daughter Geetanjali Gupta. She had planned to testify that at the time of the tips cited by prosecutors, her father told her that he believed Mr. Rajaratnam had stolen money from him.
Judge Rakoff curbed her testimony, allowing her to say only that her father was upset with Mr. Rajaratnam. If the jury had heard that Mr. Rajaratnam might have cheated Mr. Gupta, "that testimony would have powerfully refuted the government's theory of motive," Mr. Waxman argued.
Judge Newman appeared skeptical that the daughter's testimony would have swayed the jury given the substantial circumstantial evidence of Mr. Gupta's guilt.
"You're telling me that if the jury had heard that statement it would have disregarded all the other evidence in the case?" Judge Newman asked. "How realistic is that?"
Later in the argument, Judge Newman recounted damning evidence from the trial — phone logs and trading records indicating that less than one minute after hanging up from a Goldman board call, Mr. Gupta phoned Mr. Rajaratnam, who quickly bought about $35 million worth of Goldman stock.
"Are you telling us that that's a coincidence?" Judge Newman asked.
Mr. Waxman tried to avoid answering the question, but Judge Newman persisted. "O.K., I embrace it — it's a coincidence," said Mr. Waxman, a former solicitor general of the United States who is considered one of the country's top appellate lawyers.
Richard C. Tarlowe, the federal prosecutor who argued the appeal for the government, seized upon Judge Newman's incredulity when he rose to speak. "The argument" — that the phone calls and trades were coincidental — "was made to the jury, and it was rejected because of its absurdity," he said.
For Mr. Gupta to have his conviction reversed, the appeals court does not have to believe in his innocence. Rather, he can win a new trial if the judges decide that Judge Rakoff improperly admitted the wiretapped conversations between Mr. Rajaratnam and his colleagues suggesting that he had an inside source at Goldman, or made other faulty rulings.
"The court's decidedly asymmetrical interpretation of the rules of evidence left the jury with a distorted picture, in which Gupta was accused by the self-serving hearsay of a known fabulist," Mr. Gupta's legal team wrote in court papers.
During the argument, Mr. Waxman characterized Mr. Rajaratnam's statements as unreliable, and described him as a braggart who "lied about his sources to impress his subordinates."
A ruling by the appeals court is expected in the coming months. One party closely watching for a decision is Goldman Sachs, which had a lawyer attend Tuesday's hearing. In February, a judge ordered Mr. Gupta to pay Goldman more than $6.2 million to reimburse the bank for legal expenses related to an internal investigation and other costs. But because the bank's bylaws require it to cover legal fees for top officers and directors, Goldman is paying for Mr. Gupta's costly defense, which has reached at least $35 million.
Mr. Gupta agreed to reimburse the bank for his legal bills if a jury convicted him, but Goldman must continue to pay them until the final outcome of his appeal.
---
This post has been revised to reflect the following correction:
Correction: May 22, 2013
An earlier version of this article misstated the timing of Rajat Gupta's conviction. It was in June 2012, not May 2012.
Article source: http://dealbook.nytimes.com/2013/05/21/court-hears-appeal-of-ex-director-of-goldman/?partner=rss&emc=rss