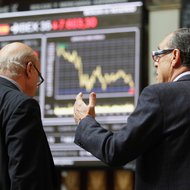 Andrea Comas/Reuters
LONDON – When is the right time to initiate a takeover?
That question is confronting companies looking for acquisitions amid the European debt crisis. Despite a growing number of opportunities, the market volatility and the weak financing environment continue to thwart efforts across the Continent to complete deals.
The outlook remains bleak. So far this year, the combined value of European takeovers has fallen 23 percent, to $266 billion, compared with the same period last year, according to the data provider Thomson Reuters.
The drop in deals comes despite efforts by international companies to find bargains resulting from Europe's financial woes.
As shares prices in Europe have plummeted, local companies have become takeover targets for overseas rivals eager to scoop up undervalued businesses. And many private equity firms, which are facing problems refinancing debt-laden deals struck before the financial crisis began, also want to offload companies to new owners, often at discounted prices.
"People are traveling around Europe, kicking the tires on businesses in the hopes of finding a good deal," said a leading banker at an investment bank in London, who spoke on the condition of anonymity because he was not authorized to speak publicly. "The problem is knowing what the right price should be. Every day, the financial crisis throws up a new obstacle, and that makes valuing a takeover target almost impossible."
The deal uncertainty is linked to growing skepticism that Europe will not be able to weather the crisis. Greek voters go to the polls on June 17, which may lead to the country turning its back on austerity measures that are conditions of its multibillion-dollar bailout. Investors are concerned that Spain and Italy may also be unable to meet their debt obligations. The problems facing these Southern European countries are likely to be felt across the rest of the Continent.
Faced with such dire economic conditions, companies are wary to spend their cash in Europe. Analysts say they are fearful that asset prices will continue to fall because of the Continent's financial problems. So far this year, the Euro STOXX 50, an index of leading companies in the euro zone monetary union, has fallen 23 percent. Further drops in share prices are expected, as companies struggle from a reduction in consumer spending and concerns about countries' abilities to pay their debts.
Amid the volatility, companies and financial firms are preferring to take a back seat until there's more certainty about how to value potential acquisitions, according to another London-based investment banker.
"It's better to sit tight than spend money on a deal that could have been cheaper if you had waited," said the banker, who spoke on the condition of anonymity because he was not authorized to speak publicly.
Despite the uncertainty, some companies are pushing ahead. Investment bankers say deals have primarily focused on so-called bolt-on acquisitions in industries, which offer companies short-term financial benefits with minimal risk.
In March, for example, United Parcel Service agreed to buy the Dutch shipping company TNT Express for 5.2 billion euros, or $6.8 billion, in an effort by the American company to increase its market share in Europe and open inroads into China. Last month, the Canadian computer services company CGI Group also acquired the British information technology company Logica for £1.7 billion, or $2.6 billion, as CGI expanded its footprint in Europe.
Beyond these deals, however, the pipeline for new acquisitions is expected to remain weak until companies have more clarity on Europe's economic future.
Article source: http://dealbook.nytimes.com/2012/06/08/europes-woes-continue-to-hamper-takeovers/?partner=rss&emc=rss