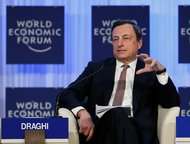 Pascal Lauener/ReutersMario Draghi, the president of the European Central Bank, at the World Economic Forum in the Swiss resort of Davos on Friday.
DAVOS, Switzerland — Calling 2012 the year the euro was renewed, the president of the European Central Bank expressed concern that calm on financial markets had not yet led to economic growth and better lives for European citizens.
Mario Draghi, the central bank president and the person who can probably take more credit than anyone for the relative tranquility that greets visitors to the World Economic Forum this year, used an appearance here to take stock of the state of the euro zone.
Mr. Draghi said that central bank measures last year had prevented a banking crisis. And he also praised government leaders for steps they took to strengthen the currency union, for example agreeing to put the central bank in charge of supervising banks — a change that will be phased in over the next year.
And the net effect of those moves? ''To say the least, the jury is still out,'' Mr. Draghi said. ''We haven't seen an equal momentum on the real side of the economy. That's where we have to do some more.''
The euro zone economy has stabilized at a very low level, Mr. Draghi said, and should begin to recover in the second half of 2013.
Data released Friday supported the thesis of a gradual recovery. The Ifo business climate index, a closely watched indicator of business confidence in Germany, rose more than expected. The survey suggested that the euro zone's largest economy is growing again after a contraction at the end of 2012.
What's more, the central bank said Friday that more euro zone banks than expected had chosen to make early repayment of three-year central bank loans they took out a year ago. The volume of early repayment is seen as a sign that at least some banks are healthier than they were, and able to raise money on their own. The central bank said 278 banks would pay back 137 billion euros, of a total of 489 billion euros they borrowed a year ago at exceedingly low interest rates.
Banks could borrow the money at the central bank's benchmark interest rate, currently 0.75 percent. But some may have felt that there was a stigma attached. Even though the European Central Bank does not disclose borrowers, banks may have been concerned about appearing weak in the eyes of the central bank. In addition, banks needed to post bonds or other assets as collateral, and some may now prefer to deploy the assets elsewhere.
Looking ahead, Mr. Draghi described 2013 as a year of implementation, when the European Central Bank and governments would begin carrying out decisions they made last year.
The central bank would begin assuming authority over banks, he said, and governments would carry out changes intended to improve their ability to respond to crises and police each other's spending. As central supervisor, the central bank is expected to be more willing than national regulators to force sick banks to confront their problems.
Mr. Draghi defended the central bank's position that euro zone governments must continue to work to get spending under control. Austerity — a word Mr. Draghi said he did not like — has been a de facto condition for measures the central bank has taken to contain the crisis and give governments space for economic reforms.
''Fiscal consolidation is unavoidable,'' Mr. Draghi said during onstage questioning by John Lipsky, a former first deputy managing director of the International Monetary Fund. ''There can't be any sustainable growth, any sustainable equity achieved through an endless creation of debt.''
But Mr. Draghi conceded that budget cutting could push countries into recession, and he said governments should cut spending on operations rather than curtailing outlays for infrastructure projects like bridges and roads.
Asked by Mr. Lipsky whether the central bank would follow the Federal Reserve in setting benchmarks for unemployment that would prompt the central bank to lower rates or take other action, Mr. Draghi said no.
But, in what could signal a subtle shift in the central bank's thinking, Mr. Draghi suggested that the bank can pursue economic growth as part of its prime mandate to defend price stability.
''We have given plenty of evidence we can do so within the existing framework,'' Mr. Draghi said.
Article source: http://dealbook.nytimes.com/2013/01/25/despite-calm-draghi-raises-economic-concerns/?partner=rss&emc=rss