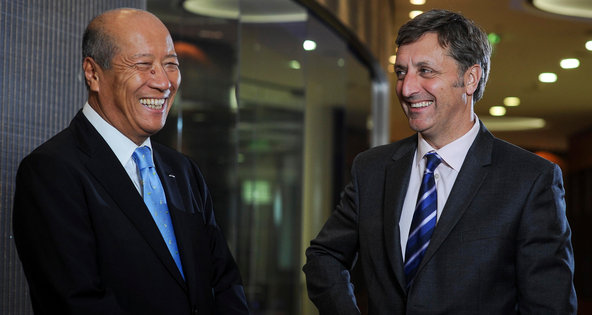 Daniel Lewis/VisualMedia, via Bloomberg NewsTadashi Ishii, left, chief of Dentsu, and Jerry Buhlmann, chief of Aegis.
9:05 a.m. | Updated
Dentsu, a Japanese advertising powerhouse that has struggled to expand internationally, made a big leap into Western markets on Thursday, saying it had agreed to buy Aegis, an agency company based in London.
The planned acquisition, valued at £3.167 billion ($4.92 billion), is one of the largest ever in the advertising business, rivaling the purchase of Young Rubicam by the WPP 12 years ago and a deal for the parent company of Leo Burnett by Publicis Groupe in 2002.
The deal would combine Dentsu, the fifth-largest advertising company in the world, with the seventh largest. Aegis specializes in media buying, a steady source of earnings, and fast-growing digital marketing, leaving slower-growing businesses like the creation of television advertising to other agencies.
Aegis owns the media buying agency Carat, which counts General Motors among its clients, as well as a digital ad specialist, Isobar, and other agencies. It is strongest in Europe and has a significant presence in North America.
Dentsu, while dominant in Japan, has tended to rely on partnerships abroad, rather than operating through its own agencies.
Thomas Samson/Agence France-Presse — Getty ImagesVincent Bolloré, a French investor, sold most of his stake in Aegis to Dentsu at a price that nearly doubled his investment.
"This is really about building Dentsu outside Japan," said Ian Whittaker, an analyst at Liberum Capital. "Buying Aegis gives them a good platform. It gives them a high-quality asset that, operationally, has been doing very well."
International expansion is critical, because the Japanese ad market has been shrinking in recent years. Dentsu this year acquired a boutique agency in New York, ML Rogers, and Bos, with offices in Toronto and Montreal. The deal for Aegis accelerates that the international push, which has been led by a former professional basketball player, Tim Andree.
"By forming the first communications group with true global reach, the growth strategies of both businesses will be enhanced as we provide more scale, geography, capability and investment to support clients," Jerry Buhlmann, chief executive of Aegis, said in a statement.
Merger and acquisition activity has been accelerating in the advertising business, which has weathered the global financial and economic crisis better than some other media industries. Last month, WPP, the world's biggest advertising company, agreed to buy control of AKQA, a digital agency, in a deal valuing it at $540 million. This month, Publicis agreed to buy the 51 percent of BBH that it did not already own.
There had been speculation that Dentsu would make a move since it ended a nine-year alliance with Publicis, the third-largest agency company after WPP and the Omnicom Group, in February. To unwind that partnership, Publicis bought back a 9 percent stake in Dentsu, giving the Japanese agency additional financial resources for acquisitions.
Still, the deal with Aegis was something of a surprise. The French investor Vincent Bolloré owns a 26.4 percent stake in the company, and is also the biggest shareholder in another advertising company, Havas. Many analysts had assumed that at some point Mr. Bolloré might try to link Havas and Aegis more directly.
Instead, Mr. Bolloré agreed to sell most of his stake to Dentsu at the offer price of 240 pence a share, 48 percent above the closing price of the stock on Wednesday. Mr. Bolloré bought his Aegis stake at an average price of 123 pence a share, meaning he nearly doubled his investment.
"He's reinforced his reputation as someone who knows how to make money," Mr. Whittaker said.
But the deal raises questions over Mr. Bolloré's other advertising investment. He has been shuffling his media portfolio of late, investing in Vivendi, the French conglomerate that owns Universal Music Group and a variety of other assets.
"For Havas, given it is 30 percent owned by Bolloré and this deal leaves it as the remaining smaller global agency network, this may be viewed as the next potential target in the global agency space," analysts at Citigroup wrote in a note to clients.
While Aegis has been considered an attractive takeover target, analysts said a flurry of recent acquisitions by companies like WPP and Publicis made it less likely that counterbids to Dentsu's offer might emerge.
"Most other would-be acquirers have been active on other deal flow in recent weeks, so may not have the balance sheet capability to get involved," Alex DeGroote, an analyst at Panmure, wrote in a note to investors.
Hiroko Tabuchi contributed reporting from Tokyo.
Article source: http://dealbook.nytimes.com/2012/07/12/dentsu-of-japan-to-buy-aegis-of-britain-for-5-1-billion/?partner=rss&emc=rss