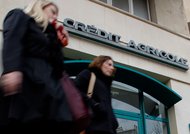 Jean-Paul Pelissier/ReutersA branch of Credit Agricole in Marseille, France.
PARIS – Crédit Agricole, one of France's biggest lenders, said on Wednesday that a series of write-downs and other charges contributed to its largest-ever annual loss, as the bank looked to move beyond the problems in Greece and Italy that have hobbled its recent earnings.
The bank reported a net loss of 6.5 billion euros ($8.7 billion) for 2012. In the fourth quarter, the bank posted a net loss of about 4 billion euros, compared with a loss of about 3.1 billion euros in the period a year earlier. Revenue fell 23 percent, to 3.3 billion euros, in the three months ended Dec. 31.
Jon Peace, an analyst at Nomura International in London, described the fourth-quarter loss as "an even bigger kitchen sink" than that for which the market had been bracing, but said Crédit Agricole's core French retail and asset management businesses had performed surprisingly well. There are "clear signs of improvement" in its finances, he wrote in a note.
"We are turning a page and will develop a new medium-term plan this year," Jean-Paul Chifflet, the bank's chief executive, said in a statement. "It will show that we are moving forward on solid foundations."
After stripping out one-time costs, the bank said net income showed "the resilience of French retail banking and a good performance in savings management, the group's core businesses." The bank's adjusted fourth-quarter net income was about 548 million euros, up 10 percent compared with the last three months of 2011.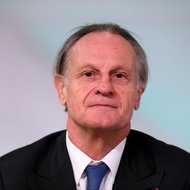 Jacky Naegelen/ReutersJean-Paul Chifflet, the chief executive of Crédit Agricole.
Mr. Chifflet said during a conference call that the bank would not need to raise capital in the financial markets. Shares of Crédit Agricole rose 7.6 percent in afternoon trading in Paris on Wednesday.
The flood of red ink originated in good-will impairments of nearly 2.7 billion euros, losses linked to the sale of its C.A. Cheuvreux brokerage unit to Kepler. The charges take into account the decline in value of the unit.
The impairment comes as banks face pressure over goodwill.
Last month, the European Securities and Markets Authority last month called on companies to take a hard look at the value they assign to the assets on their balance sheets, particularly those they purchased in flusher times, and write down the goodwill of those that have declined below book value. It warned that it would publicly identify those companies that failed to comply.
Crédit Agricole also booked a fourth-quarter charge of 704 million euros related to the sale last year of its Athens-based unit, Emporiki, to Alpha Bank, a write-down that it said left it with no residual exposure to Greece. But it said the French tax authorities had unexpectedly ordered it to pay a 132 million euro bill on the disposal, causing its loss to grow.
Fourth-quarter results also were hurt by a charge of 541 million euros on the cost of revaluing the bank's own debt.
Crédit Agricole, based in Paris, was caught flat-footed when the euro zone crisis caused a sharp fall in the value of assets in Greece, Italy and other struggling European countries.
Over the last few years, the bank has been streamlining its business and reducing its reliance on so-called peripheral European economies, as well as increasing its capital buffer. It disposed of its stake in the Italian lender Intesa Sanpaolo, booking a second-half loss of 445 million euros. But the bank is still working to sort out another Italian unit, Cariparma, where it took an 852 million euro charge.
Crédit Agricole said its core Tier 1 ratio, a measure of a bank's ability to weather financial shocks, under the accounting rules known as Basel III, stood at 9.3 percent at the end of December, and that it hoped to exceed 10 percent by the end of 2013.
Article source: http://dealbook.nytimes.com/2013/02/20/credit-agricole-posts-record-loss-on-write-downs/?partner=rss&emc=rss