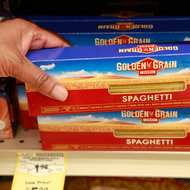 Paul Sakuma/Associated PressRalcorp owns several brands, including the American Italian Pasta Company.
8:37 a.m. | Updated
After being rejected last year, ConAgra Foods agreed on Tuesday to buy Ralcorp Holdings for roughly $5 billion in cash, reviving an effort to form the largest producer of private label packaged food in North America.
Under the terms of the deal, Ralcorp shareholders would receive $90 a share in cash, 28 percent above Ralcorp's closing price on Monday. Including debt, the transaction is valued at about $6.8 billion.
Together, the two would have $4.5 billion in annual sales of private label goods, made for bakeries, grocery chains, restaurants and other food service customers.
Related Links
"Ralcorp is already the largest private label food company in the U.S. and is well positioned for future growth," Gary M. Rodkin, chief executive of ConAgra Foods, said in a statement. "Adding Ralcorp provides us with a much larger presence in the attractive and growing private label segment."
Once regarded as the stepchildren of the food aisles, private label products have become brands in their own right as grocery store retailers have used them to set themselves apart from competitors.
Over the years, retailers invested heavily in improving the quality of their food products as well as the packaging and merchandising. Now, they have become ubiquitous among convenience stores, club stores, big box retailers and specialty concepts like Whole Foods and Trader Joe's.

When the economy was weaker, consumers snapped up such private label brands, although a new report out on Tuesday from the SymphonyIRI Group, a market research firm, suggests that the growth of private label brands might be slowing.
The study found that the private label unit share of the total consumer packaged goods market fell to 17.1 percent in the 52 weeks ended Sept. 9 from 17.3 percent in the period a year earlier, although the dollar value of those products continued to inch ahead.
"Over the past two years, the trend of buying more private label brands has been flattening out, with dollar sales ticking up more slowly and unit sales declining slightly," said Susan H. Viamari, editor of SymphonyIRI's Times and Trends reports. "Consumers are still frugal, but because national brands have stepped up their game, they're gaining back some share they lost to private label."
Still, retailers are continuing to make investments in developing their private label lines. That is part of the reason ConAgra pursued Ralcorp so intently.
"Private label brands really have become true brands," Ms. Viamari said. "There was a time when they were knockoffs you would bury in the bottom of your cart, but now in many cases they are just as good or even better than national brands and represent a smart purchase."
The deal on Tuesday is a surprising turn of play for ConAgra, which unsuccessfully bid $5.2 billion to buy Ralcorp last year in an attempt to bulk up its generic foods business, supplementing its existing brands like Egg Beaters and Chef Boyardee.
But Ralcorp instead chose to spin off its branded cereals division – including Honey Bunches of Oats, Post Raisin Bran and Grape-Nuts – into a new company, Post Holdings. That company's shares have risen nearly 27 percent since they began trading in February.
Ralcorp also made a number of acquisitions to bolster its remaining businesses.
Talks between the two companies revived this fall, when ConAgra again reached out about a union of the two food companies.
ConAgra expects to pay for the deal with existing cash, bank facilities and new debt. It plans to issue up to $350 million in new shares to help maintain its existing investment-grade credit rating.
ConAgra was advised by Centerview Partners, Bank of America Merrill Lynch and the law firm Davis Polk Wardwell. Ralcorp was advised by Barclays, Goldman Sachs and the law firm Wachtell, Lipton, Rosen Katz.
Article source: http://dealbook.nytimes.com/2012/11/27/conagra-to-buy-ralcorp-holdings-for-6-8-billion-in-cash-and-debt/?partner=rss&emc=rss