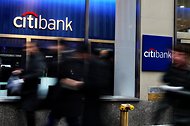 Shannon Stapleton/Reuters A Citibank branch in New York.
2:00 p.m. | Updated
Citigroup on Monday reported that both its revenue and profit fell in the second quarter, underscoring the anemic economic environment financial institutions face both here and abroad.
While the results came in ahead of what analysts had forecast, net income dropped 12 percent while revenues were down 10 percent from the same quarter a year ago.
The bottom line, however, was helped by lower credit losses and tight controls on expenses, which has been a major goal of Citigroup's chief executive, Vikram Pandit.
Expenses were down 6 percent from the second quarter of 2012 while credit losses fell 31 percent.
"In short, we are on top of the things we can control," Mr. Pandit said during a call with analysts on Monday. "We are managing our expenses closely and making sure we are right-sized for the environment we anticipate."
Related Links
Citigroup, along with Bank of America, was among the institutions hardest hit by the financial crisis of 2008 and Mr. Pandit has spent the past four years slowly restoring the company to profitability while disposing of weaker assets.
Citi Holdings, the division of the company that includes the problem assets, recorded a loss of $920 million in the quarter. But the division's assets continue to shrink, falling 28 percent from the same period a year ago.
Citigroup shares remain far below where they were before the financial crisis, but rallied slightly on Monday's earnings report. Its stock was up 0.75 percent to $26.85 in midday trading.
The bank reported earnings of $2.9 billion, or 95 cents a share, with revenue falling to $18.6 billion. Those earnings include a $219 million gain related to how certain debt of the company is valued, as well as a one-time loss of $424 million on the sale of a stake in Akbank T.A.S., a Turkish bank.
Excluding one-time charges, Citi reported earnings of $1 a share on revenue of $18.8 billion. Analysts had been expecting adjusted earnings of 89 cents a share on revenue of $18.9 billion.
Highlighting how businesses remain more bullish than consumers, lending to mid-to-large companies jumped 22 percent, while borrowing by consumers increased by 2 percent.
Within the more volatile capital markets businesses, results varied sharply by segment. Investment banking fees slumped 21 percent to $854 million, while equity trading revenues fell 29 percent to $550 million.
But thanks to lower expenses and credit losses, income at the securities and banking unit rose 18 percent, to $1.4 billion.
Asked about the Libor scandal now rattling the broader banking industry, Mr. Pandit and John Gerspach, the bank's chief financial officer, both said Citigroup was cooperating with requests for information from several jurisdictions.
But Mr. Pandit suggested Citigroup might fare better than other institutions facing large penalties in settling Libor-related claims, such as Barclays. Last month, Barclays agreed to pay $450 million to British and American regulators to settle claims that it had manipulated how the widely cited Libor rate is set.
"The only thing I can say is do not infer from the situation of one Libor-submitting bank that every bank is the same," said Mr. Pandit.
Article source: http://dealbook.nytimes.com/2012/07/16/citigroups-profit-down-12-but-beats-estimates/?partner=rss&emc=rss