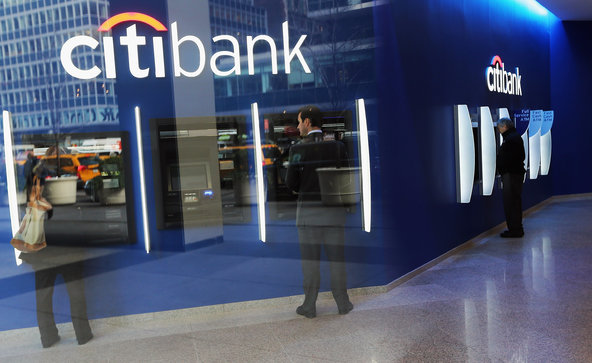 Mario Tama/Getty ImagesCitibank's earnings report said that the bank was helped by bond and stock trading revenue.
Citigroup posted a 42 percent rise in second-quarter earnings on Monday, handily beating expectations, as the sprawling bank worked to cut costs and expand its international lending operations.
The bank, which has hitched much of its hopes for growth to emerging markets, reported a profit of $4.18 billion, or $1.34 a share, compared with $2.94 billion, or $1 a share, in the period a year earlier. Citigroup, the nation's third-largest bank by assets, reported revenue of $20.5 billion, up 12 percent from the period a year earlier.
Related Links
Excluding a $477 million gain from a valuation adjustment on Citigroup's debt, the bank reported earnings of $1.25 a share. The results were bolstered by strong gains in trading revenue.
The performance exceeded analysts' profit expectations of $3.55 billion, or $1.19 a share. Citibank was expected to report revenue of $19.76 billion, up from $18.64 billion in the period a year earlier.
"Our businesses performed well during the quarter and these results are well balanced through our products and geographies, especially in the emerging markets, where growth is being challenged," Michael L. Corbat, the chief executive of Citigroup, said in the bank's earnings release on Monday.
Under Mr. Corbat's leadership, Citigroup is continuing to refocus on businesses that fit within its core strategy. As part of that push, the bank has shed $18 billion worth of assets. Citigroup also sold the remainder of its stake in the Morgan Stanley Smith Barney brokerage joint venture. Mr. Corbat also reached deals during the second quarter to sell the bank's consumer lending units in Turkey and Uruguay.
With international lending operations that dwarf those of many of its United States rivals, Citigroup's opportunities for growth rise and fall with the fate of emerging markets. Any sluggishness overseas, particularly in Mexico where the bank has a large presence, always lurks as an issue that could undercut earnings.
More than 50 percent of Citigroup's revenue comes from outside of North America. While the growth in emerging markets has certainly exceeded that in the the United States, it is still producing a dispirited response from Citigroup's top banking executives. In Mexico, for example, economic growth was not as robust as expected, Citigroup said on Monday. "Mexico shocked everyone," John Gerspach, the bank's chief financial officer, said on a conference call on Monday.
As growth cools in China — it reported a slowdown in second-quarter gross domestic product on Monday — other Asian economies could be damped as well.
Emerging markets were hit, as well, when Ben Bernanke, the chairman of the Federal Reserve, said in Congressional testimony in May that the government was considering whether to scale back its bond-buying program if the American economy shows signs of improvement.
During a conference call on Friday, Jamie Dimon, the brash chairman and chief executive of JPMorgan Chase, commented on the strength of emerging markets when the bank reported its earnings, suggesting that some banks capitalized on the ensuing volatility while others missed out. "Our folks in emerging markets did a particularly good job, which might not be the same for some others reporting," he said.
On Monday, Mr. Gerspach said that the bank "did a very good job of managing our business in the emerging market this quarter."
And despite mercurial emerging markets, Citigroup registered gains abroad. Revenue from consumer banking abroad rose 6 percent, to $4.7 billion, compared with figures in the period a year earlier. Adding to the uncertainty for Citigroup is the mercurial regulatory challenges abroad. Profits from those units grew by 4 percent, to $826 million.
Still, Citigroup's quarterly earnings point to broader challenges facing the United States banking industry. On Friday, JPMorgan Chase and Wells Fargo reported declines in mortgage banking revenue, eroded in part by refinancing machines that were beginning to slow. A sharp uptick in interest rates has caused the refinancing boom to sputter.
Continually rising rates could damp borrowers' appetite for refinancing existing mortgages or buying a house. Within Citigroup's consumer banking unit, profit fell slightly by 1 percent, to $1.95 billion. As fewer consumers fall behind on their bills, Citigroup was able to empty some of the reserves — approximately $228 million — for the losses. While it receives a boost from an improvement in credit quality, Citigroup is still grappling, like many of its large peers, with skittish American consumers who remain skeptical of taking on new debt.
The wariness was clear in Citigroup's American lending operations. "The U.S. consumer is still going through a period of deleveraging," Mr. Gerspach said on Monday.
Adding to the uncertainty in the United States are fresh capital rules introduced by regulators last week. Since the financial crisis of 2008, regulators have been steadily introducing new requirements aimed at bolstering capital levels that could help Wall Street withstand market turbulence.
Under the new rules, regulators are pushing for banks to hold more capital as a percentage of their assets. Banks have two months to comment on the rules. On Monday, Mr. Gerspach cautioned that the requirements could undercut the bank's ability to compete with its international rivals.
"We would all be better if there was a level playing field around the world," he said on Monday. Like its large peers, Citigroup is wrestling with how to offset income siphoned by new financial regulation and the lackluster American economy.
A bright spot for Citigroup was its securities and investment banking business. Within fixed income, revenue swelled by 18 percent, to $3.37 billion. Revenue from stock trading rose 68 percent, to $942 million, in the second quarter.
Investors are closely watching the bank's quarterly reports during the first year under the leadership of Mr. Corbat, who took the reins after the ouster of Vikram S. Pandit. In October, Michael E. O'Neill, the bank's forceful chairman, pushed Mr. Pandit out in favor of Mr. Corbat.
Building on the path outlined by Mr. Pandit, Mr. Corbat has promised to continue cutting costs. Toward that goal, Citigroup reduced assets in its Citi Holdings unit by 31 percent in second quarter, to $131 billion. In an encouraging sign for Citigroup, losses within the unit that houses a glut of unwanted assets fell to $570 million from $910 million in the period a year earlier. In the aftermath of the financial crisis, Citigroup created the unit in 2009 to house a morass of soured assets. Losses on that unit were the lowest since its creation.
Even as Mr. Corbat has aggressively moved to reduce the bank's costs, operating expenses rose 1 percent, to $12.1 billion, from the period a year earlier. Last year, as one of his first initiatives after taking over as chief executive, Mr. Corbat announced plans to eliminate 11,000 jobs.
As the bank seeks to move beyond the specter of its mortgage woes, Citigroup agreed in June to pay $968 million to settle claims that it had sold shaky mortgage loans to Fannie Mae. Before the bank empties its reserves to cushion against mortgage losses, Citibank has said it will be conservative, waiting for substantial improvement in the housing market and overall economy.
Article source: http://dealbook.nytimes.com/2013/07/15/citigroup-profit-climbs-42-percent/?partner=rss&emc=rss