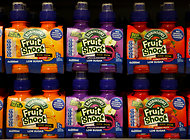 Chris Ratcliffe/Bloomberg NewsFruit Shoot juice drink, manufactured by Britvic.
LONDON – The British beverage company Britvic said on Wednesday that it was in talks with a rival soft drink maker, A.G. Barr, over a potential merger worth around $2.2 billion.
The deal would create one of Europe's largest soft drink companies under the proposed all-stock merger, which would give a 63 percent stake in the combined company to Britvic shareholders. Investors in A.G. Barr would control the remaining 37 percent stake, according to a company statement.
The two companies said discussions were in early stages. If the deal is completed, A.G. Barr's chief executive, Roger White, would become the new company's head. John Gibney, Britvic's chief financial officer, would become head of finance for the combined company.
Britvic and the smaller A.G. Barr have a combined market capitalization of around $2.2 billion.
Shares in Britvic, which controls the British license for Pepsi and 7UP, jumped 11.9 percent, while stock in A.G. Barr rose 5.6 percent in morning trading in London on Wednesday.
Under British takeover rules, the companies have until the beginning of October to announce whether they will pursue a merger.
Article source: http://dealbook.nytimes.com/2012/09/05/british-soft-drink-companies-in-merger-talks/?partner=rss&emc=rss