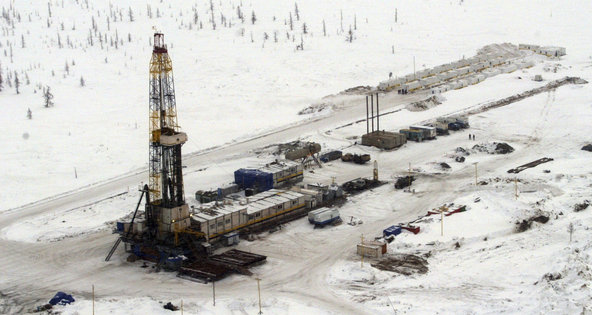 Sergey Ponomarev/Associated PressA Rosneft oil rig in Siberia in 2007.
MOSCOW – BP has offered to acquire a bigger stake in the Russian state oil company Rosneft if it can sell its interests in a private joint venture here, the president of Rosneft said on Friday.
Such a move would make BP the largest single outside investor in the Russia's state oil company.
The deal also holds the promise of reviving an ill-fated offshore exploration deal in the Russian Arctic that fell apart last year amid lawsuits, and more broadly tie BP's fate to Russia for years to come.
BP's chief executive, Robert W. Dudley, made the offer on Tuesday in a meeting with President Vladimir V. Putin at a Russian government retreat in the Black Sea resort town of Sochi, Rosneft's president, Igor I. Sechin, said Friday.
BP and Rosneft executives met with Mr. Putin as BP continued trying to extricate itself from a nine-year-old partnership called TNK-BP, but none of the parties provided many details about the discussions until now.
RIA Novosti/ReutersClockwise from left, Russia's president, Vladimir V. Putin, on Tuesday with an interpreter; Carl-Henric Svanberg, chairman of BP; Robert Dudley, BP's chief; and Igor Sechin, Rosneft's chief.
Such a deal that will be extraordinarily important for BP, which pumps about a quarter of its global oil output from Russia. Rosneft, for its part, had already intended to sell shares to reduce the government's holding in the company.
"This proposal seems to be very interesting," Mr. Sechin said in remarks carried by Russian news services and confirmed by Rosneft's media office.
The precise structure of the deal is still unclear, Mr. Sechin said. BP is also negotiating to sell its stake in the venture to its oligarch partners, and must continue these talks until mid-October under the terms of its shareholder agreement in TNK-BP.
Mr. Sechin confirmed that Rosneft was in talks with banks to raise $10 billion to $15 billion for a deal. The rest is likely to come as shares in Rosneft.
"BP aims to be an investor in Russia for many decades to come. BP is considering further investment in Russia regardless of who we sell our stake to," the company said in a statement. "Therefore if we are successful in selling our stake in TNK-BP then we would be interested in investing some of the proceeds in buying shares in Rosneft."
The deal could well become a payday for BP shareholders, who are growing impatient with Mr. Dudley's leadership in turning the company around after the Gulf of Mexico spill.
BP would be paid in cash and shares in Rosneft. BP's statement suggested a portion of the cash could be reinvested to keep a foothold in Russia, possibly with a revival of the Arctic deal, said Ildar Davletshin, an oil and gas analyst at Renaissance. With the rest, BP could buy additional Rosneft shares and pay a special dividend to shareholders, Mr. Davletshin said.
Shareholders "need to see a sweetener," he said.
When BP created the TNK-BP joint venture with the oligarch partners in 2003, the deal suggested a coming of age of Russian capitalism. It was the largest outside investment in Russia at the time.
But soon after entering the deal, the oil industry landscape shifted under BP's feet. The following year, Mr. Putin imprisoned a wealthy, post-Soviet oil tycoon, Mikhail B. Khodorkovsky, and effectively nationalized Mr. Khodorkovsky's assets to form the core of the state company, Rosneft.
Shortly after that, BP had bought a 1.3 percent stake in Rosneft worth about $1 billion during the Russian oil company's I.P.O. in 2006.
For BP, the TNK-BP venture had signaled the future of Russian oil development would center on a state company – much as it does in Saudi Arabia and other major oil-exporting nations.
BP has since struggled to extricate itself from the private sector deal or create separate joint ventures with Russian state energy companies, either Rosneft or Gazprom.
Two previous attempts by BP to shift its footing in Russia — a partnership in 2007 with Gazprom and an Arctic exploration deal in 2011 with Rosneft — failed because the oligarch partners, still influential in the Russian government, succeeded in foiling BP's plans.
In both cases, as now, Mr. Dudley, a lifelong oilman from Mississippi, had tried to form a counterintuitive alliance with hardline Russian government officials like Mr. Sechin, a proponent of resource nationalism, and against the private-sector partners.
The agreement Mr. Sechin outlined in comments at an economic forum in Sochi would accomplish much of what BP has been seeking for its Russian business.
Thane Gustafson, an expert on Russian oil at consultants IHS Cera said that Rosneft could use the technical and managerial help that BP could provide for its mission of developing the Arctic offshore and other frontier areas.
But he cautioned that Rosneft was already "a company with a great many obligations and commitments."
BP, he said, would be joining three other strategic partners, ExxonMobil, Norway' s Statoil and Italy's ENI.
Stanley Reed contributed reporting from London.
Article source: http://dealbook.nytimes.com/2012/09/21/bp-offers-to-acquire-larger-stake-in-rosneft/?partner=rss&emc=rss