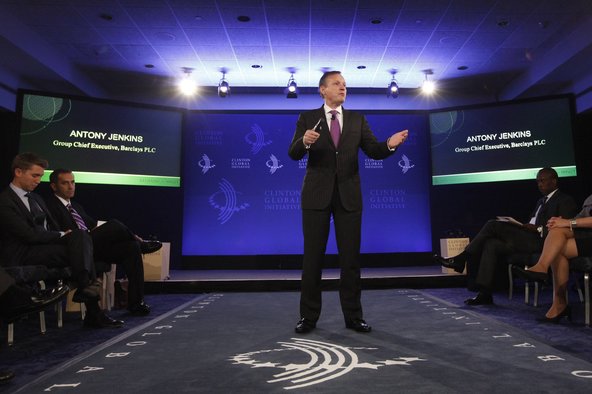 Lucas Jackson/ReutersAntony Jenkins, chief of Barclays.
6:44 p.m. | Updated
Antony P. Jenkins, the new chief executive of Barclays, said on Friday that he would forgo his bonus as the British bank struggled to rebuild its reputation after recent missteps.
British regulators are investigating new accusations that Barclays failed to properly disclose to shareholders a loan to a group of Qatari investors that gave the British bank a cash infusion during the financial crisis, according to a person with direct knowledge of the matter.
Last year, the bank disclosed that British and American authorities were investigating the legality of the payments related to the $7.1 billion cash injection to Qatar Holding, the sovereign wealth fund.
Mr. Jenkins is dealing with a series of legal headaches.
In June, Barclays agreed to pay a $450 million settlement with United States and British regulators over rate manipulation. The scandal forced a number of the bank's top executives to resign, including the chief executive at the time, Robert E. Diamond Jr.
The British firm has also set aside $3.2 billion to cover legal costs related to the inappropriate selling of insurance to consumers. British authorities recently told the bank that it must review the sale of certain interest rate hedging products after 90 percent of a sample of the complex instruments were found to have been sold improperly. Analysts say the investigation may lead to millions of dollars of new legal costs.
With the controversy surrounding the bank, Mr. Jenkins said he did not want to be considered for a bonus that could have totaled up to $4.3 million, adding that many of the problems engulfing the bank were of its own making. The Barclays chief's annual salary is $1.7 million.
"I think it only right that I bear an appropriate degree of accountability for those matters," Mr. Jenkins said in a statement. "It would be wrong for me to receive a bonus for 2012."
A spokesman for Barclays declined to comment about the investigation into potential wrongdoing connected to the loan to Qatari investors.
By giving up his bonus, Mr. Jenkins contrasts with his predecessor. Mr. Diamond was in line for a $4.3 million bonus for 2011 despite criticism about the bank's performance. Faced with mounting opposition, Mr. Diamond and Chris Lucas, the bank's finance director, eventually agreed to forgo half of the deferred stock payout if the British bank failed to reach a number of its financial targets.
Barclays, which will disclose details of a major overhaul of its operations when it reports earnings on Feb. 12, is expected to cut up to 2,000 jobs in its investment bank in an effort to reduce its exposure to risky trading activity, according to two people with direct knowledge of the matter.
Mr. Jenkins, who previously ran Barclays' consumer banking business, told employees in January that they should leave the bank if they were not willing to help rebuild the firm's reputation.
"My message to those people is simple," Mr. Jenkins wrote in an internal note obtained by The New York Times. "Barclays is not the place for you. The rules have changed."
---
This post has been revised to reflect the following correction:
Correction: February 1, 2013
An earlier version of this article indicated that the Barclays chief executive told employees earlier this month that they should leave the bank if they were not willing to help rebuild the firm's reputation. He told them in January.
Article source: http://dealbook.nytimes.com/2013/02/01/amid-banks-legal-problems-barclays-c-e-o-gives-up-bonus/?partner=rss&emc=rss