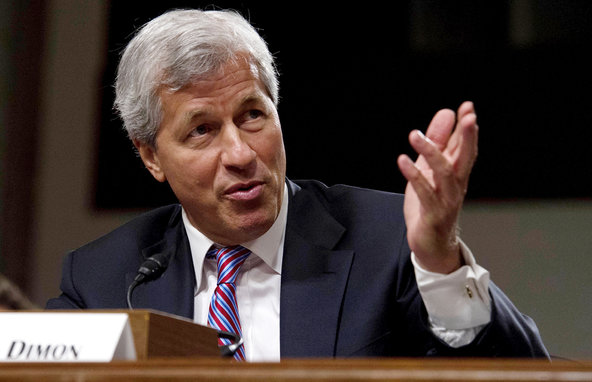 Karen Bleier/Agence France-Presse — Getty ImagesJamie Dimon, chief of JPMorgan Chase, spoke to a Senate panel last year.
An influential shareholder advisory firm has recommended that investors withhold their support for three JPMorgan Chase directors, citing "material failures of stewardship and risk oversight" in the wake of a big trading loss last year.
The firm, Institutional Shareholder Services, or I.S.S., urged shareholders not to vote for three directors who serve on the board's risk policy committee — David M. Cote, James S. Crown and Ellen V. Futter. The results of the vote will be announced at the bank's annual meeting later this month.
In its report released late Friday, I.S.S. noted that only under "extraordinary circumstances" does it consider recommending shareholders oppose directors.
Several big investors interviewed over the weekend say they were struck by the harshness of the criticism directed toward the bank's directors.
"The board appears to have been largely reactive, making changes only when it was clear it could no longer maintain the status quo," I.S.S. wrote in its 33-page report on the bank. "The company's board is in need of refreshment and it should begin searching for seasoned directors with financial and risk expertise."
The firm, which advises shareholders on proxy votes and corporate governance issues, also backed, as expected, a proposal to split the roles of chairman and chief executive, a move that could strip Jamie Dimon, the bank's powerful leader, of the dual roles he has held since 2006. I.S.S. does not actually vote shares, but many investors follow its recommendations, or use them as a basis on how to vote.
The report is another challenge to the bank's effort to restore its reputation as an astute manger of risk following last year's embarrassing multibillion-dollar trading loss by the bank's chief investment office in London.
Since the loss was first disclosed a year ago, Mr. Dimon and the board have vowed to correct problems and bolster risk controls.
In a statement on Sunday, the bank said: "The company strongly endorses the re-election of its current directors and disagrees with I.S.S.'s position. The members of the board's risk committee have a diversity and breadth of experiences that have served the company well. While the company has acknowledged a number of mistakes relating to its losses in C.I.O., an independent review committee of the board determined that those mistakes were not attributable to the risk committee."
While the three directors had served on the risk committee when JPMorgan navigated through the financial crisis, I.S.S. criticized the three for failing to have strong backgrounds in risk management. Its report said "it is odd" that the bank's biggest rivals have managed to find directors with stronger qualifications.
I.S.S. said it took its concerns about the risk policy committee to Lee Raymond, the board's presiding director. Boards typically appoint presiding or lead directors to act as a counterbalance when the chairman also serves as chief executive.
Mr. Raymond, a former chief executive of Exxon Mobil, cited the challenges of finding qualified board members who were not conflicted from serving, according to I.S.S.
I.S.S. said that after its conversations with Mr. Raymond it concluded that any changes made since the 2012 trading loss were headed by management and not the board.
That assessment may sway some shareholders who are deciding how to vote their shares on another issue. A number of big investors grade the quality of a company's lead director in considering whether to vote to split the roles of chairman and chief executive, said one major shareholder.
If shareholders conclude Mr. Raymond is not an adequate lead director, it may result in more investors supporting a split of the top jobs.
"We look at the lead director and ask 'is this person up to the task, are they a leader and do they stand up to the C.E.O.?' " said one shareholder, who spoke on condition of anonymity because this person was not authorized to speak publicly. "If the answer is no, we support splitting the roles."
JPMorgan shareholders are now deciding how to vote on the question of splitting the chairman and chief executive roles, and whether to vote for the company's directors. The results will be announced on May 21 at the annual meeting in Tampa, Fla.
Their calculations come as the bank has found itself under scrutiny over its relations with regulators and over investigations into the trading loss and compliance problems.
At the same time, however, JPMorgan shareholders have much to be thankful for. Last month, the bank reported its 12th consecutive quarterly profit, aided by strong revenue gains from investment banking and mortgage-related activity. JPMorgan has gained market share and has managed to buck trends rattling its rivals.
Still, I.S.S. emphasized risk controls in its report, saying that the need for risk policy members "who can go toe-to-toe with management is particularly acute."
The three directors it singled out "lack robust industry-specific experience," and the failures of the last year have "demonstrated their unsuitability" on the risk policy committee and the board, the report said.
One of the three, Ms. Futter, is president of the American Museum of Natural History. She had served on the board of the insurance giant American International Group, which nearly collapsed in the 2008 financial crisis.
Last year, 86 percent of shareholders voted for Ms. Futter, the lowest level of support for any director. Some executives inside the bank, though, say that while Ms. Futter may not be a banker, she does bring perspective on reputational risk.
Mr. Cote, as chief executive of Honeywell International, heads an industrial company, not a financial firm, I.S.S. noted, leaving him potentially lacking in relevant experience.
Mr. Crown, who has been a director of JPMorgan or one of its predecessor companies since 1991, is chairman of the risk policy committee. He is president of Henry Crown Company, a private investment firm.
"While Mr. Crown leads a privately owned investment company and has three years of investment banking experience, it is unclear if his experience is sufficiently robust for a large and complex institution like JPM," I.S.S. said in its report.
The only member of the risk policy committee who is being backed is Timothy Flynn, a former KPMG executive who was appointed in August 2012 as part of the board and bank's efforts to improve oversight and controls in the wake of the London trading loss.
In addition to Mr. Flynn's appointment, an executive at the bank who was not authorized to speak on the record said that while an independent committee of the board looked into the trading loss and found the risk policy committee was not at fault, a number of changes have been made over the last year and that group now receives more timely information from management.
The proxy firm reserved some of its harshest criticism for the board itself, faulting it for its lack of communication with shareholders over the last year.
"Unlike company managers, boards have a fiduciary responsibility to shareholders and should play an active role in crisis management and shareholder communication," I.S.S. wrote. "In this case, however, the board does not appear to have conducted any significant outreach to shareholders."
Article source: http://dealbook.nytimes.com/2013/05/05/a-call-for-new-blood-on-the-jpmorgan-board/?partner=rss&emc=rss