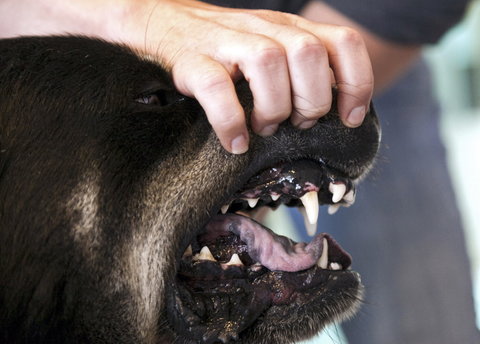 Associated Press A trainer in Los Angeles reveals a dog's teeth while demonstrating how to avoid dog bites.
Dog bites continue to represent one-third of the payout dollars for homeowner liability claims, according to the latest data from the Insurance Information Institute and State Farm Insurance.
Insurers paid more than $489 million for such claims last year, according to the institute, an industry group.
While the actual number of dog-bite claims fell 1.4 percent in 2012, to just under 16,500, the cost of settling claims rose 1.2 percent, so the total cost was essentially flat. The average cost paid per claim was $29,752 last year, compared with $29,396 in 2011.
Loretta Worters, a spokeswoman for the institute, said some companies include in their statistics dog-related injuries that aren't necessarily actual bites, such as if a dog jumps on someone or startles them, and they fall and are injured.
The claims are paid under homeowners' liability insurance, which covers you if your dog bites someone visiting your home or if it bites someone when you take it out for a walk.
Homeowners' insurance generally covers dog liability as part of the policy's standard coverage, with limits of up to $100,000 or $300,000.
Ms. Worters said most insurers don't ask about dogs when initially writing a homeowner's policy. But once a dog bite occurs, insurers may increase your premium or even exclude the dog from coverage under your policy, depending on the severity of the injuries. Some insurers exclude certain breeds of dog from coverage.
State Farm said it paid more than $136 million to cover nearly 4,500 dog bite claims last year. The company said it did not refuse insurance based on the dog's breed, but it urged owners to be responsible with their pets.
Various organizations have been publicizing dog bite information because of National Dog Bite Prevention Week, the third full week in May.
The Centers for Disease Control and Prevention say 4.7 million dog bites occur each year, and more than half of the victims are children. The Postal Service says roughly 5,900 postal carriers were attacked by dogs last year. Los Angeles topped the list of cities based on dog attacks on letter carriers, with 69 attacks reported in fiscal 2012.
A nonprofit organization called Prevent the Bite offers tips for helping people, especially children, to avoid dog bites, based on the "W.A.I.T." principal for approaching unfamiliar dogs:
–Wait to see if the dog is with its owner and if it looks friendly.
–Ask the owner for permission to pet a dog.
–Invite the dog to sniff you, while you stand with your hands curled at your side.
–Touch the dog gently to pet, never at its face or tail.
If the dog looks unfriendly; if its owner declines to let you touch the pet; or if it doesn't approach to sniff you, stop and walk slowly away.
Has your dog bitten someone? Did it affect the cost of your insurance?
Article source: http://bucks.blogs.nytimes.com/2013/05/27/dog-bites-can-raise-your-insurance-premiums/?partner=rss&emc=rss