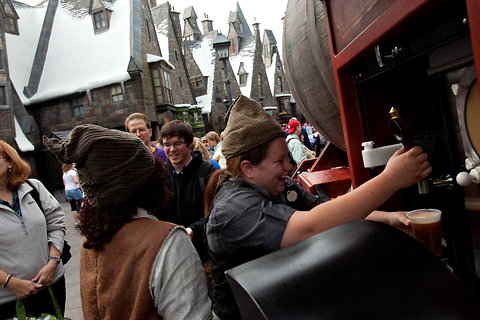 Chip Litherland for The New York TimesPatrons line up for butterbeer at the Wizarding World of Harry Potter in Orlando.
Last year, our Thanksgiving was memorable mostly for the deer we hit on the drive to our holiday destination. This year, we had a travel challenge of a different sort: Fly to Florida for a family vacation, on a budget.
We decided to meet up with friends in Orlando for a theme-park fest, then return home to have a holiday meal with other friends and family. But when we searched airfares and hotel rates a while back, we blanched. Flying a major airline would have eaten up much of our budget, and driving was out of the question because of time constraints. (Our children have Thanksgiving week off from school; going during a non-peak week would have been cheaper, but we didn't want them to miss school).
Then we remembered Allegiant Air, a budget carrier that flies nonstop from our local airport in Northwest Arkansas to Orlando.
I had flown the airline once previously, to visit a friend near Los Angeles; all had gone smoothly. But I had been reluctant to book a family vacation on Allegiant. One way the airline keeps its fares low is by flying on limited days; it makes use of secondary airports. Because it offers fewer flights, there's not much room for error if something goes wrong and a flight is canceled. For adults, travel delays are manageable even if they're highly annoying. With young children, however, unexpected problems can turn a trip into a nightmare.
Still, we reasoned that our children are older now and better able to handle problems that might arise. So we took the bait. We paid for advance seat assignments and for three checked bags (another way Allegiant keeps fares low is by charging fees for each and every option), which added roughly $300 to our total. The fees would have been higher if we'd waited to pay at the airport. Still, the tab for a family of four was easily $1,000 less than it would have been on a major carrier, leaving more cash to spend on treats like $3.55 butterbeers at the Wizarding World of Harry Potter, at Universal Studios.
That doesn't mean the trip was trouble-free though.
The first wrinkle was when we arrived at the airport for a scheduled 6:30 p.m., nonstop flight. We'd checked in online and printed our boarding passes, but were still directed to wait in a long line to drop off our bags, seemingly negating any advantage of early check-in. Then, we were told that the flight was delayed by at least an hour.
When the flight was finally called for boarding, we were relieved, but only momentarily. It turned out that we were lining up again, this time inside a drafty walkway, to wait while the now-arrived plane disgorged its incoming passengers. By the time we boarded and took off, we felt like cattle going to the feed pen. (When my daughter asked why we were in line again, my husband joked that we were "practicing for Disney World.")
Allegiant flies into Sanford, northeast of Orlando, which added an extra half hour to the drive to our lodging upon arrival. Because it was so late at night when we landed, we didn't take time to switch our car after our rental company provided us with a smelly sedan that obviously had been driven by heavy smokers. My youngest child, who is sensitive to odors, gagged and whined about the stench all the way to our rental home.
We crashed into bed at about 1 a.m., and after that things mostly went smoothly. We split a lovely VRBO home with our traveling companions that worked out to about $84 a night, including taxes, per family. (That's far less than we would have paid at the least-expensive Disney hotels during a holiday week, according to the Disney Web site). It was conveniently located to the major theme parks and let us prepare many meals at home, sparing us from overpriced theme-park fare.
Fast forward six days to the return flight, scheduled at the challenging hour of 6:20 a.m. on Thanksgiving morning. We rose at 3:30 a.m. to make it to the airport; check-in at Sanford went smoothly, and there were no long lines. We were at the gate by 5:15, when we were told that a crew member hadn't shown up, so the flight was delayed pending the arrival of a replacement. (The same thing can happen on a major airline, but they generally have a bigger personnel pool from which to find alternates).
Sleep-deprived toddlers screamed and ran in circles around the gate area while we waited, and one poor moppet kept it up for the entire two-hour flight home. We arrived bleary-eyed, about an hour later than scheduled, but still in time to have Thanksgiving dinner that afternoon.
The upshot: A budget airline can work, if you're prepared for the curve balls (and wailing babies) they may throw your way. Not all of the problems were unique to a low-cost airline; I've encountered my share of flight delays on major airlines, after all. It's just that the wiggle room for fixing them is narrower on a budget operation, and you need to take that into account. In our case, I think the savings proved worth it.
Have you ever taken a budget airline on vacation? Do you think the hassles are worth the lower fares?
Article source: http://bucks.blogs.nytimes.com/2012/11/27/a-budget-trip-to-orlando-for-a-holiday-break/?partner=rss&emc=rss