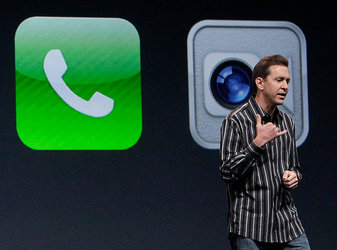 Jeff Chiu/Associated Press Scott Forstall at an Apple event in September.
8:24 p.m. | Updated Apple fired the executives in charge of the company's mobile software efforts and retail stores, in a management shake-up aimed at making the company's divisions work more harmoniously together.
The biggest of the changes involved the departure of Scott Forstall, an Apple veteran who for several years ran software development for Apple's iPad and iPhone products. Mr. Forstall was an important executive at the company and the one who, in many respects, seemed to most closely embody the technology vision of Steven P. Jobs, the former chief executive of Apple who died a year ago.
But Mr. Forstall was also known as ambitious and divisive, qualities that generated more friction within Apple after the death of Mr. Jobs, who had kept the dueling egos of his senior executives largely in check. Mr. Forstall's responsibilities will be divided among a few other Apple executives.
While tensions between Mr. Forstall and other executives had been mounting for some time, a recent incident appeared to play a major role in his dismissal. After an outcry among iPhone customers about bugs in the company's new mobile maps service, Mr. Forstall refused to sign a public apology over the matter, dismissing the problems as exaggerated, according to people with knowledge of the situation who declined to be named discussing confidential matters.
Instead, Timothy D. Cook, Apple's chief executive, in September signed the apology letter to Apple customers over maps.
Apple said in a news release on Monday that the management changes would "encourage even more collaboration" at the company. But people briefed on Apple's moves, who declined to be identified talking about confidential decisions at the company, said Mr. Forstall and John Browett were fired.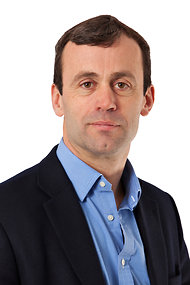 Dixons Retails, via Associated Press John Browett
Steve Dowling, an Apple spokesman, said neither executive was available for an interview. Mr. Forstall did not respond to interview requests over e-mail and Facebook.
Mr. Browett, who took over as head of the company's retail operations in April, will also leave the company after a number of missteps. Apple said that a search for a new head of retail was under way and that the retail team would report directly to Mr. Cook in the meantime.
Mr. Forstall will leave Apple next year and serve as an adviser to Mr. Cook until then.
Eddy Cue, who oversees Apple's Internet services, will take over development of Apple maps and Siri, the voice-activated virtual assistant in the iPhone. Both technologies have been widely criticized by some who say they fall short of the usual polish of Apple products.
Jonathan Ive, the influential head of industrial design at Apple, will take on more software responsibilities at the company by providing more "leadership and direction for Human Interface," Apple said. Craig Federighi, who was previously in charge of Apple's Mac software development, will also lead development of iOS, the software for iPads and iPhones.
Apple said Bob Mansfield, an executive who previously ran hardware engineering and was planning to retire from Apple, will lead a new group, Technologies. That group will combine Apple's wireless and semiconductor teams. Apple in a statement said the semiconductor teams had "ambitious plans for the future."
Recently, Mr. Mansfield had been working on his own projects at the company, operating without anyone reporting to him directly. One of the areas of interest Mr. Mansfield had been exploring is health-related accessories and applications for Apple's mobile products, said an Apple partner who declined to be named discussing unannounced products.
Mr. Forstall was a staunch believer in a type of user interface, skeuomorphic design, which tries to imitate artifacts and textures in real life. Most of Apple's built-in applications for iOS use skeuomorphic design, including imitating thread of a leather binder in the Game Center application and a wooden bookshelf feel in the newsstand application.
Mr. Jobs was also a proponent of skeuomorphic design; he had a leather texture added to apps that mimicked the seats on his private jet. Yet most other executives, specifically Mr. Ive, have always believed that these artifacts looked outdated and that user interface design on the computer had reached a point where skeuomorph was no longer necessary.
Mr. Forstall, who trained as an actor at a young age, also shared with Mr. Jobs a commanding stage presence at events introducing Apple products, often delivering his speeches with a pensive style that echoed that of Mr. Jobs.
According to two people who have worked with Apple to develop new third-party products for the iPhone, the relationship between Mr. Forstall and Mr. Ive had soured to a point that the two executives would not sit in the same meeting room together.
A senior Apple employee who asked not to be named said Mr. Forstall had also incurred the ire of other executives after inserting himself into product development that went beyond his role at the company. One person in touch with Apple executives said the mood of people at the company was largely positive about Mr. Forstall's departure.
"This was better than the Giants winning the World Series," he said. "People are really excited."
The departure of Mr. Browett was less surprising to outsiders. In August, the company took the unusual step of publicly apologizing for a plan by Mr. Browett to cut back on staffing at its stores. Charlie Wolf, an analyst at Needham Company, said he was never convinced that Mr. Browett was a good choice to join Apple because he had previously run Dixons, a British retailer that is viewed as being more downmarket than Apple's retail operations.
---
This post has been revised to reflect the following correction:
Correction: October 29, 2012
A caption with an earlier version of this post misspelled the surname of Apple's departing retail director. He is John Browett, not Browlett.
Article source: http://bits.blogs.nytimes.com/2012/10/29/apples-mobile-software-and-retail-chiefs-to-depart/?partner=rss&emc=rss