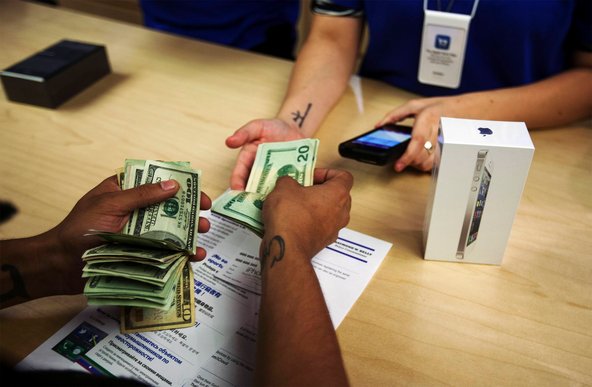 Lucas Jackson/Reuters
The grumbling over a new Apple maps service didn't deter customers from once again jamming stores to get the latest iPhone.
The phone went on sale at 8 a.m. local time Friday morning in Apple retail stores and those of its wireless carrier partners. Crowds were heavy, especially at flagship Apple stores like the one on Fifth Avenue in New York. Although Apple won't say anything yet about the sales it's seeing for the iPhone 5, Gene Munster, an analyst at Piper Jaffray, sought to do some educated guesswork by counting the number of people waiting in line before stores in New York, Boston and Minneapolis opened.
Piper Jaffray counted 775 people in line in front of the Fifth Avenue store, for instance, 68 percent more than queued up at the same store when the iPhone 4S went on sale last year, Mr. Munster wrote in a research note. Mr. Munster said the heavier store traffic gave him confidence in his estimate that Apple could sell eight million iPhone 5's through this weekend.
Apple has already said on Monday that it sold two million iPhone 5's over the Internet after allowing people to submit pre-orders for the product. That figure was double the one million pre-orders it took for the previous record holder for 24 hour sales, the iPhone 4S.
Apple doesn't provide many clues as to whether the iPhone 5 is still in stock in specific stores. Apple's Web site says people who order the iPhone 5 now will receive it in three to four weeks.
The apparently strong demand for Apple's phone shows that, in the near term at least, the company's sales haven't been hurt by the reaction to Apple maps, a new service that comes on the iPhone 5 and older iPhones and iPads that users upgrade with the latest Apple operating system. The new service has been blasted by early users for inaccurate directions, misplaced landmarks and a lack of street-level imagery, especially in comparison with the more polished Google Maps service it replaced.
Apple on Thursday said that its service will improve over time.
Article source: http://bits.blogs.nytimes.com/2012/09/21/the-iphone-5-now-on-the-loose/?partner=rss&emc=rss