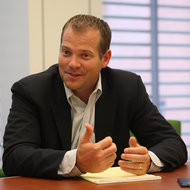 Hiroko Masuike/The New York Times Jason Mackenzie, president of global sales and marketing at HTC, said the company was highlighting the new phone's camera.
As the first to use Google's Android smartphone software, HTC, the Taiwanese handset maker, was briefly the top smartphone manufacturer in the United States. It was surpassed by Apple and Samsung.
Now, to vie for a bigger piece of the market, HTC is working with another underdog: Microsoft's Windows Phone software.
At an event in New York on Wednesday, HTC introduced two smartphones featuring Windows Phone 8, the latest version of Microsoft's mobile operating system. The phones, HTC Windows Phone 8X and HTC Windows Phone 8S, were deliberately named to raise awareness among consumers that Windows phones even exist in a market that is dominated by Apple and Android.
Marilynn K. Yee/The New York Times The HTC Windows Phone 8S is the smaller of the two phones the handset maker introduced in its partnership with Microsoft.
"Generally speaking, consumers aren't aware of Windows Phone," said Terry Myerson, corporate vice president of Microsoft's Windows Phone division, in an interview. "We wanted to increase the awareness of Windows Phone by simplifying that message."
For HTC, a big bet on Windows Phone is risky. The previous version of Microsoft's mobile software, Windows Phone 7, has been unpopular among consumers, gaining about 2.5 percent of the American market. HTC was the top American smartphone maker in the third quarter of 2011, but it now has less than a tenth of the market. Apple and Samsung together account for 57 percent of the American smartphone market, according to estimates by Gartner, the technology research firm.
In a previous interview, Jason Mackenzie, president of global sales and marketing at HTC, said the company did not have a strong, iconic brand for its phones, as Apple does for its iPhone and Samsung does for its Galaxy phones.
At the event, HTC and Microsoft focused their discussion on the Windows Phone 8X model, the bigger and more expensive of the two phones. It has a 4.3-inch screen and a wafer-thin body. Mr. Mackenzie said the camera had an 88-degree viewing angle so that multiple people could be seen during a video conference call, as opposed to just one person's face.
HTC's new Windows phones will arrive in November. The Windows Phone 8X will cost $200 with ATT. It will be available on T-Mobile USA, Verizon and some global networks as well, and prices are to be announced for those carriers. The price of the smaller phone, the Windows Phone 8S, was not disclosed.
Making the phone game even tougher for HTC and Microsoft, Apple introduced its iPhone 5 just last week and sold two million devices in the first 24 hours it was on sale. But the companies still think they can compete.
"I think consumers are looking for much more than another row of icons, and this is a beautiful experience," Mr. Myerson said, referring to the new iPhone's larger screen.
Pete Cunningham, a mobile analyst at Canalys, said that despite Microsoft's and HTC's best efforts to improve on branding, the names of the phones were "not the most catchy product names I've heard." He was skeptical about the sales prospects for the phones, and said that both companies would have to be extremely aggressive in promoting them, especially coming after the iPhone 5.
"We're in a fiercely competitive space, and there's a lot of good devices out there, and we've obviously got the iPhone 5," Mr. Cunningham said. "Does the iPhone 5 have the best chip set? No. Camera? No. Will it be the best-selling iPhone ever? Yes."
Article source: http://bits.blogs.nytimes.com/2012/09/19/htc-windows-phones/?partner=rss&emc=rss