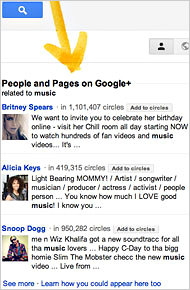 Google excels at responding to search queries with links to Web pages, but those have become old-fashioned. These days, the company has concluded, Internet users increasingly want to find conversations and photos posted by their friends on the social Web.
On Tuesday, Google plans to take its biggest step yet toward incorporating social networking posts from its Google+ service into its search results.
Google says that the new feature, which it calls Search Plus Your World, is one of the biggest changes it has ever made to its search results. People will see posts and photos from their friends, profiles of their friends when they search people's names, and conversations occurring on Google+ related to topics they search.
"What you search today is largely written by people you don't know; we call that the faceless Web," said Amit Singhal, a Google fellow who oversees search. "Search Plus Your World transforms search and centers it around you."
Google has risked being shunted aside for failing to get on board with the social Web. Its new offering comes eight years after Facebook started and in the weeks before it is expected to file for an initial public offering, the most eagerly anticipated tech offering since Google went public and what is likely to be the crowning moment for the new social Web.
To keep up, Larry Page, Google's chief executive, prioritized social networking after high-profile fumbles, like the Buzz social networking service, and tense volleys with Facebook, which does not allow Google to include most of its pages in search results.
Last summer, the company introduced Google+. From the beginning, the idea was not to replace Facebook, but to supply Google with social information that it could use in its other products, mainly search.
Search Plus Your World is the result of that. When Google users are logged into a Google service, like Gmail, their search results will show posts from people they have included in their circles on Google+.
For instance, for most users, a search for "chikoo" would show links and photos of an Indian fruit. But for friends of Mr. Singhal, it would also show photos and posts about his dog, who is named Chikoo. A search for a sports team would show, in addition to the usual links, conversations about the team among a user's friends on Google+.
People only see personal posts if they have access to those posts on Google+, either because the posts are public, or because they have chosen to include the person who posted the items in a Google+ circle and the person has shared the items with them.
In addition, when people search for a name, Google will automatically suggest people who are friends with the person on Google+ or prominent people. And when people search for general topics, like "music" or "cooking," Google will show related Google+ conversations on the right-hand side of search results.
Google users can click a link on the search results page to see only personal posts, or to turn off the new feature and see only the standard search results. For users who are signed in to Google, all search results will be encrypted using a secure connection.
Users who are not on Google+ will see items they have shared with Google, like photos they have uploaded to its Picasa service, and items posted publicly on Google+ by people that Google assumes they know because they communicate with them on Gmail, for instance.
Google+ has its fair share of spam-like comments and uninteresting posts. Mr. Singhal said Google has created algorithms to only show the most relevant posts in search results. For example, it guesses how close a user is to a friend on Google+ based on how often they communicate and which of a user's circles are most relevant to them based on how often they contact people in the circles.
"Our job is to provide relevant suggestions, and just because someone is discussing something on Google+, if it's not prominent enough, we don't want to bring it to the search results page," Mr. Singhal said.
What if spam-like Google+ posts written by a friend still make their way to search results? "Then you have to re-evaluate being friends with him," Mr. Singhal said.
Article source: http://feeds.nytimes.com/click.phdo?i=9876f623fdef11778b75916b8e09ffbc