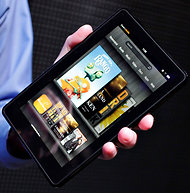 Mark Lennihan/Associated PressKindle Fire.
In the last two months, five million or so people got a Kindle Fire. Some of them were upgrading from earlier Kindles. They know the ropes. But millions of others must be new at this, and are stumbling around with their tablets looking for content. If they are like the rest of us and still paying the holiday bills, they want it free. That would be Angry Birds, of course, but also the Kindle Top 100 Free best-seller list. Some of these books are out of copyright — "Dracula," Jane Austen — and some seem to have originated with Amazon itself. But at the top and interspersed all the way through are novels written by living if somewhat obscure authors. Romances, mostly, often with a Christian theme.
The idea of a free best-seller list is a contradiction in terms. These books are not, after all, "selling." Furthermore, where is the larger pool of books from which these titles are drawn? The number of contemporary novels on Amazon that are free is small; if I publish my novel through Kindle, I must charge at least 99 cents. I understand that established writers are submitting their books and Amazon is picking and choosing, but no details are provided as to how the process works. The books on the list change rapidly, so I assume — unlike a normal best-seller list — that titles are booted after a period of time. Perhaps a better way to think about this list is simply as a group of titles that Amazon is allowing writers and publishers to give away for a set period. Don't ask any questions. They're free.
Gore Vidal wrote a famous essay in 1973 about reading the top 10 fiction best sellers, then only available in your neighborhood bookstore or library. He concluded that contemporary writers, even the egghead ones, wrote the way they did because they had seen too many movies. Everything was a screenplay. The Kindle Free list awaits its Vidal but as a stopgap I downloaded the top half-dozen novels and spent a flight from New York to San Francisco reading in and among them.
Cynthia Ruchti's "They Almost Always Come Home" is about Libby's search for her missing husband. Did he drive off the road, is he on the lam, is there something nefarious going on? But I had a separate mystery I was trying to decipher: Where was his cellphone?
It wasn't until location 314 of 3212 — this is how Kindle does page numbers — that I figured it out. Libby is recalling a meal: "Greg ordered brown sugar-smoked lake trout with wild mushrooms and dried cranberries over basmati rice. I had the grilled salmon with mango salsa and cilantro puree on a bed of fiddlehead ferns." Then I got it: They were eating in my 2012, but the action was taking place in an alternative universe where the Internet was not a factor in people's daily lives.
Take another Kindle best seller, Barbara Freethy's "Ryan's Return," about a renowned photojournalist returning for the first time in 12 years to the small town in Northern California where he grew up. Many shocking revelations await him, such as the fact that his high school sweetheart, who had married his brother, is dead. "I can't believe you don't know," says the cop who welcomes Ryan back to town by giving him a ticket.
I couldn't either. Wasn't Ryan friends with his ex-sweetheart on Facebook? Didn't he get an Evite to the memorial service? Didn't he ever Google her when he was trapped in some forsaken place by his work and musing on what might have been, and then see her obituary?
Apparently not. "Ryan's Return," although it first appeared several years ago, was copyright 2011, which usually implies an update or a rewrite. But its world was not the one I knew, and I had a hard time suspending my disbelief.
So many romances as well as other contemporary novels depend on characters not knowing things about each other. In the age of the Facebook Timeline, either readers are going to have to become willfully oblivious or writers are going to have to get more skillful. One of the other free best sellers, "The Lady of Bolton Hill," was able to evade the whole issue by being set 150 years ago. Maybe whole genres will recede from the present and become completely historical.
Otherwise, technology, even as it facilitates the old-fashioned art of reading, will render it irrelevant. By the time I was over Denver, I had gone back to Angry Birds.
Article source: http://feeds.nytimes.com/click.phdo?i=d7f2438159acc2041128697e1f8a9940