For the first three decades of Marlin's existence, the company almost exclusively made simple, sturdy, welded-wire bagel baskets. As the Jewish breakfast staple exploded in popularity outside the Northeast, Marlin prospered along with it.
Advertisement
Continue reading the main story
But by the early 2000s, the bagel craze was fading, and the popularity of the Atkins diet and carb-phobia started hurting bagel sales. China's entry into the World Trade Organization in 2001 presented traditional manufacturers — and what is more old-school than bagel baskets? — with an existential threat.
Chinese versions of Marlin's products were selling for $6 each, or less than what the steel alone cost in Marlin's baskets. The other $5 that Marlin charged, to cover salaries, taxes, equipment and a sliver of profit, was now just red ink.
Mr. Greenblatt did what organisms threatened with extinction have always done to survive: He evolved.
He moved the factory to Baltimore in 1999, with eight of his Brooklyn employees following him, including one who is still working on the floor. Then he began going after what economists call value-added goods, products that were more specialized and sophisticated what than the Chinese were making, and therefore able to command higher prices.
But producing baskets with very specific requirements, or tolerances, as they are known, for automakers or aerospace giants could not be achieved by hand. "If a bagel falls out the bottom, that's 10 cents," Mr. Greenblatt said. "A single airplane part can cost thousands of dollars, so there's no room for error."
Over the course of a decade, he invested in robots that churned out baskets almost a hundred times as fast as human beings. He trained his workers to operate the robots, which can cost hundreds of thousands of dollars each, and hired engineers to help design ever-more-sophisticated products to win customers and stay ahead of overseas rivals.
"In Brooklyn, eight fellows could do 300 bends an hour," Mr. Greenblatt recalled. "Now two guys running robots can do 25,000 bends per hour."
Advertisement
Continue reading the main story
Today, in fact, many of Marlin's robot-made baskets are designed specifically to be handled by other robots.
Automation did not mean the elimination of jobs — in fact, it saved the company. But it does mean producing many more baskets with only a few more workers. So, while Marlin's revenue has grown to over $5 million today, from $800,000 when Mr. Greenblatt arrived, the company's work force has increased by just a third, to 24 people from 18 people.
Marlin's comeback isn't exactly a secret. In 2012, the Treasury secretary, Timothy F. Geithner, visited the plant. Mr. Greenblatt is a well-known booster in industry circles.
Less publicized is how the company's survival has transformed the lives of its workers, even as the Westport neighborhood around the factory, and other poor sections of Baltimore, remain deeply scarred. "Some are dead, some are locked up," said Edward Derrill, 23, of the guys he grew up with in West Baltimore. "I didn't want to end up like that."
With an associate's degree in computer science from Morgan State University, a historically black college in Baltimore, workers like Mr. Derrill can earn at least $50,000 a year. Besides health insurance, they also have access to a 401(k) plan and two weeks' paid vacation, a rarity at many local employers.
"You can work your way up and get raises," he said. Mr. Derrill hopes to become a team leader soon, supervising other workers. Marlin also pays for its employees to go back to school and get degrees in related subjects like engineering, giving workers who never had a chance to attend college additional options.
Nationwide and for men in particular, whether black or white, the erosion of manufacturing work has been especially devastating.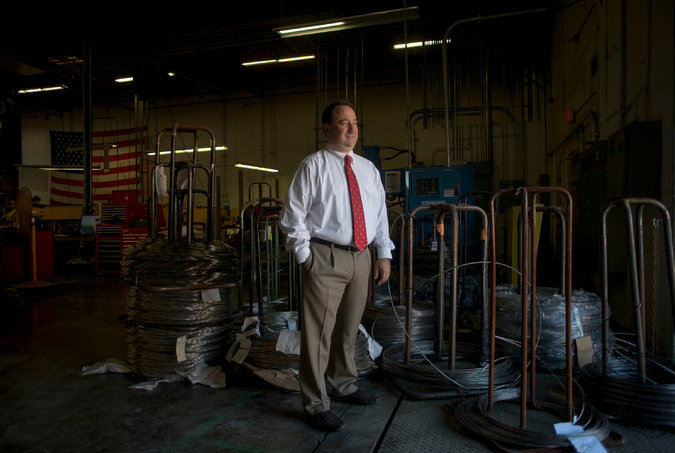 In the 1950s, says Lawrence Katz, a prominent labor economist at Harvard, nearly one-third of the men who went to work after high school were employed in factories. Those jobs and that era are never coming back, Mr. Katz said, "but a job as a physical therapist or a home health aide doesn't fit the identity of someone who is a welder or a machinist."
Advertisement
Continue reading the main story
And while not all the workers at Marlin are men — the split is about 80-20 — for many blue-collar men there and elsewhere, the idea of working with one's hands and building things is closely connected to finding a purpose in life, and in the workplace. "I call it an identity mismatch, and I think it's a huge issue for men," Mr. Katz said. "Pure physical labor isn't much valued today, but we need to try and rebuild the service sector for men without college degrees."
Brent Fox, 34, served with the Marine Corps in Iraq and is now the weekend shift supervisor at Marlin, a position that can pay well over $50,000 a year. While the money is a draw, Mr. Fox also said working in a service-type role doesn't appeal to him.
"'You want fries with that?' No way," he said. "I like being able to take raw material and make it into something. There's pride in making things — you don't get that in a lot of service jobs."
New employers have appeared in Baltimore, including an Amazon warehouse that employs more than 3,000. But with hourly wages of over $15 an hour, that is still less than what most Marlin workers earn.
"This isn't theoretical," Mr. Greenblatt said, shouting over the din of metal pounding on metal. "Manufacturing bootstraps people out of poverty."
'Honest, Hard Work'
Up Annapolis Road from the small industrial park that Marlin calls home, in the Westport neighborhood, the deindustrialization of urban America wreaked havoc. Derelict rowhouses line the streets, with rotting stoops and garbage-filled yards. Only 6 percent of residents have college degrees, and more than a quarter do not have a high school diploma.
"Try to get a job," said John Brooks, who has lived in Westport for most of his 63 years. "They won't hire people from here."
Ticking off Baltimore employers of yesteryear — like Bethlehem Steel, and Carr Lowrey, a glassmaker that shut its doors in 2003 after 114 years down by the Patapsco River — Mr. Brooks shook his head.
Advertisement
Continue reading the main story
"McDonald's, you might not even get that," he said. "There used to be plenty of factories here. You didn't even need a high school diploma to work at Bethlehem Steel."
Once upon a time, Mr. Branch, the Marlin machine operator, also lacked a high school diploma. He earned one through an equivalency test, and later helped other prisoners earn their G.E.D.s during his time inside.
After Popeyes and his course at the Magna Baltimore Technical Training Center, Mr. Branch landed a job at Crown Cork Seal in a suburb of Baltimore. "I don't know if anyone else would have taken a chance on me," he said.
In the autumn of 2015, after 123 years of making cans in Baltimore, Crown Cork Seal shut down the plant where Mr. Branch worked. But he was determined to find another manufacturing position and not go back to the streets.
"The worst feeling in the world was watching my kids get up and leave after they visited me in prison," he recalled. "I promised them I wouldn't put them through that again."
Mr. Greenblatt had worked with Magna, and when a headhunter steered Mr. Branch to Marlin Steel, it was a natural fit. "I like being creative," Mr. Branch said, as he entered figures that would determine the diameter and angles of the parts that his machine produces.
"God gave me a lot of blessings," he said. "When you lived that life on the corner, you never knew which day would be your last. Now I can come home, sit on my couch, look at my big-screen TV and appreciate it because it came from honest, hard work. That's a great feeling, and nothing can take that away."
Continue reading the main story
Article source: http://www.nytimes.com/2016/10/30/business/small-factories-emerge-as-a-weapon-in-the-fight-against-poverty.html?partner=rss&emc=rss